Mirror's Edge (iPhone, iPod Touch)
Don't Look Back!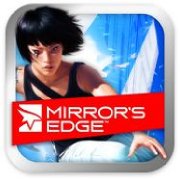 Certificate / Rating: Retail Price:
£2.99
Release Date:
2/10/2010
Genre: Parkour
Perspective: 3D
Resolution:

Related Websites:
http://www.ea.com/uk/game/mirrors-edge-iphone

Platforms:
iPhone
iPod Touch

Publishers:
EA Games

Studios:
EA Mobile

Description:
Envisioned for the iPhone 4 Retina Display and iOS 4, the Mirror's Edge experience for iPhone & iPod touch will leave you breathless. The vivid HD quality delivers stunning visual clarity as you pound through a graphically rich cityscape flooded with realistic sounds, a pulsating soundtrack, and dynamic camera angles.

True to the tradition that has made Mirror's Edge a fan favorite around the world, immerse yourself in the world of Faith Connors — an underground "Runner" who bolts into action to stop a deadly threat in a "perfect society" full of sinister surveillance and relentless pursuers.

Run up walls, slide down ramps, ride zip lines, and hurdle between rooftops as you burn through 14 levels of increasing intensity in single-player combat mode. Think fast on your feet, engage in furious hand-to-hand combat, elude your enemies, and push yourself to the very edge. Once you become a Runner, there's no looking back.