Lost Odyssey
From the creators of Final Fantasy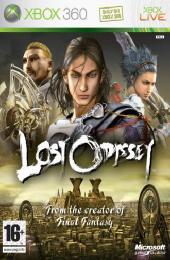 Certificate / Rating:
16+
Retail Price:
£39.99
Release Date:
Feb 2008
Genre: RPG
Perspective: 3rd Person
Resolution: 720p/1080p

Related Websites:
www.mistwalkercorp.com

Platforms:
Xbox 360

Publishers:
Microsoft Game Studios

Studios:
MistWalker

Description:
Lost Odyssey is the story of Kaim, an immortal character who has lived more than 1,000 years and doesn't remember his past and doesn't know where his future lies. Throughout Kaim's journey, a handful of characters will join him on an odyssey to discover their intricate past and destiny, leading players through a dramatic story of massive scale. Lost Odyssey will feature breathtaking visuals and an epic adventure made possible only by the power of Xbox 360.