Auslogics Disk Defrag Pro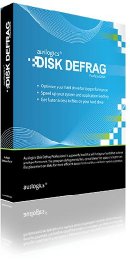 Retail Price: Release Date:
Software Category:

Description:
Auslogics Disk Defrag Pro is geared towards advanced disk optimization and maintenance. The program combines all the features of a high-end disk defragmenter with new SSD optimization algorithms, extensive customization options, advanced reporting functionality and scheduling options.

The new Disk Defrag Pro can significantly improve the performance of disk drives thanks to the following features:


Boot-time defragmentation - this feature speeds up system access by defragmenting system files, such as MFT, pagefile, Windows registry files, and hiberfil.sys on Windows boot, before they are locked by the system
Smart defragmentation algorithms - the user can select one of four different defragmentation algorithms to ensure the maximum performance gain
SSD optimization - a special algorithm is used to optimize the performance of SSD drives without performing excessive write operations that reduce SSD lifetime
Fragmentation prevention - Disk Defrag Pro allows to prevent fragmentation by assigning bits of free space after frequently used user-specified files
Disk cleanup and checkup - removing temporary files and checking disks for errors allows to ensure flawless defragmentation and achieve the maximum performance gain
In addition to all these features, the new Auslogics Disk Defrag Pro can consolidate free space, supports VSS volume defragmentation, has built-in resource management features, a scheduler and a defragmentation wizard that makes the program very easy to use.
Auslogics Disk Defrag Pro has a fully-functional 30-day trial version and the full version costs £19.06. Disk Defrag Pro is compatible with Windows 7/Vista/2008/XP/2003. 32-bit and 64-bit versions are supported.
Hardware Requirements:

Software Requirements: