MAGIX Rescue Your Vinyl & Tapes Version 2.0
Award Winning Industry Standard Software and High Quality Phono Pre-Amp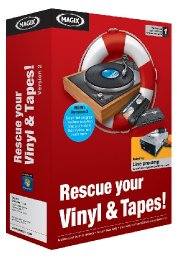 Retail Price:
£29.99
Release Date:
Software Category:

Related Websites:
http://www.magix.com/

Platforms:
Windows XP
Windows Vista
Windows 7

Publishers:
Magix

Description:
There are plenty of threats to your favourite music on analog media. They can be destroyed forever by scratches, dust and warping. Everything can be saved with MAGIX Rescue Your Vinyl & Tapes Version 2 in three easy steps. MAGIX Rescue Your Vinyl & Tapes Version 2.0 consists of software and matching hardware making it the perfect, simple solution for recording, restoring and burning your music.

New features in MAGIX Rescue Your Vinyl & Tapes Version 2.0 enable you to keep an overview on everything thanks to effective and precise navigation through files and projects that need to be restored or mastered. There is a completely new, clearly laid-out interface that helps with quick work steps, improved recording level controls, and the added ability to remove any rumbling and bumping on records from turntable needles.

Features:

Anniversary Edition: MAGIX - 15 years of innovation. Special anniversary edition including PC Check and Tuning worth £29.99.
Best audio restoration: Award winner for quality and price/performance ratio.
1-click cleaning and mastering: Automatically clean and master sound with the help of wizards.
Unique tools (applause detection) and easy operation (infobox).
Top sound: Integrated ProAudio technology with sound-neutral Samplitude sounds
Includes Hi-Fi stereo cable, adapter and battery to easily connect your devices and start recording directly.
Includes high quality phono pre-amp to connect your turntable directly to your PC.
Hardware Requirements:

Software Requirements:
Windows