HANNSpad Titan SN14T72B
A powerhouse...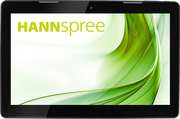 Retail Price: Release Date:
Hardware Category: Tablet

Description:
The ideal choice for multimedia and entertainment buffs the HANNSpad Titan big screen tablet boasts a 13.3inch IPS display with a Full HD 1920 x 1080 resolution making it a perfect host for HD video, gaming and photography. Picture perfecting IPS technology not only helps to deliver true, vivid colour for demanding and intense content but also provides the screen with a super wide viewing angle for a more comfortable and shareable viewing experience from any angle. The Titan's display also features highly responsive 10 Point Multi Touch operation which ensures smooth, uninterrupted navigation around the interface and the ultimate fingertip control within applications.
Technical Specifications:

Hardware Requirements:

Software Requirements: