The FUZE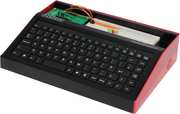 Retail Price: Release Date:
Hardware Category:

Description:
The FUZE powered by Raspberry Pi is a self-contained workstation fully equipped with the Raspberry Pi Model B, and retains all connectivity via the easily accessible back panel. The unit comes complete with a UK keyboard, Mouse, pass-thru electronic interface and solder less breadboard for electronic projects.

The FUZE powered by Raspberry Pi is configured with a customised version of the BASIC programming language. FUZE BASIC is exclusively adapted to support the Pi and its electronic Input /Output features. With its robust and safe case, FUZE BASIC and a very accessible electronics environment, this is the Pi platform you've desperately been waiting for.

The FUZE Maximite Edition is an even more accessible platform due to its built-in BASIC operating system. Instant to setup, the FUZE provides a fully functional BASIC language that provides instant results with no complex setting up or environments needed. Anyone can learn to program with BASIC – no previous knowledge of programming is required!

Whether you are completely new to programming or have programming experience, the specially designed Project Cards provide simple to follow instructions to get the most out of your Maximite or Raspberry Pi and present limitless opportunities to expand programming knowledge and an introduction to hobby electronics. New Project Cards and electronic projects will be made available from the FUZE website.
Technical Specifications:
FUZE Raspberry Pi case only

FUZE, UK keyboard & Extended IO interface - £69.99
FUZE, UK keyboard, Extended IO interface, Breadboard & Power supply - £89.99
FUZE Case with UK keyboard, Breadboard, Electronics kit, Wireless Mouse, 4GB SD card (configured with FUZE BASIC), Power supply & Project Cards (PDF) - £129.99

FUZE powered by Raspberry Pi

FUZE, Raspberry Pi Model B, UK keyboard, Breadboard, Electronics kit, Wireless Mouse, 4GB SD card (configured with FUZE BASIC), Power supply & Project Cards (PDF) - £179.99

FUZE Maximite Edition

FUZE, Colour Maximite, UK keyboard & Extended IO interface, Breadboard, Electronics kit, 4GB SD card, Power supply & Project Cards (PDF) - £179.99
Hardware Requirements:

Software Requirements: