Why Wi?
Introduction
The iDevice. Shiny. Stroked and loved by Apple fans. But also flawed. The increased price for that logo is one of those flaws. Another is the fact that you can't expand the amount of storage available to the device by just sticking in a memory card, unlike many Android devices. So if you want to keep a selection of videos, music and photos on your device, it has to be just that. A selection. You have to spend a lot of time chopping and changing your files if you want to keep things fresh.
Enter the Kingston Wi-Drive, which has been around in various configurations up to now - 16, 32 and 64Gb. Now it has expanded to 128Gb, which should be a nice amount if you need to store a nice selection of media to accompany you on a journey or something similar. The 128Gb version should have enough storage to store most people's collections of music and photos, but probably not enough for all of your videos...
The Wi-Drive is about the size of an iPhone 3, a rechargeable, battery-powered flash drive which creates a Wi-Fi network for up to three devices to connect to. It will also bridge to an existing wireless connection, so you can still access the internet whilst using it, an important point that similar devices have oft overlooked (including earlier models of this very device!)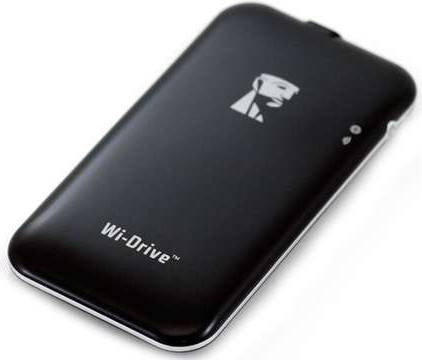 Setup and Use
So plug it in to a PC or Mac (it appears as a normal USB drive), and load it up with content. Music, videos, photos, you decide. It isn't blisteringly fast when connected via USB, but it doesn't really need to be, as this is the kind of job you do at your leisure.
Once it's loaded up, you then install a free app on to your iDevice or Android device (no Windows support yet). You then connect to the Wi-drive's built in wireless access point, and start the app. This allows you to configure the Wi-drive and access your media. You can configure the drive to then connect to your existing wireless access point, so it acts as a bridge and you can still access the Internet whilst streaming music from the Wi-drive.
The app interface is a little clunky, but it's fairly easy to use, to find your media and then to set them playing. I've played lots of different MP3s with lots of different bit rates, and had no problem with any of them. As long as you have an app that can play back your video format, then they are supported, but it would perhaps have have made more sense to make the Wi-Drive app play common formats natively.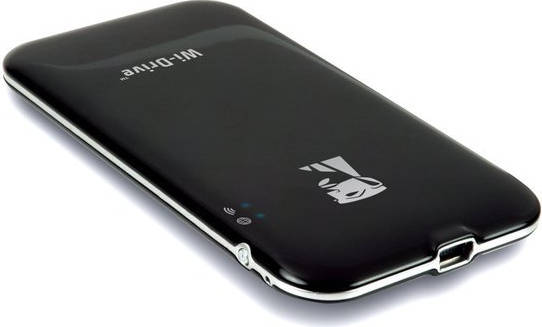 It manages to keep going for around 6 hours in constant use, but it will also play back when connected to a power source, so if you're using it around the home then there should be no problem with the battery running down. The range is good as well, and I got a great signal all around the house and even out in the garden.
Conclusion
Combine the Kingston Wi-Drive with a smartphone and a Bayan StreamPort Universal, and you have a full digital media solution. You can put masses of media on to the Wi-Drive and then play that back on your iDevice or Android device. And you could then stream the audio to your music solution of choice via the Bayan StreamPort Universal. You can have your entire music collection available at the tap of a few screens.
This is a great solution if your smartphone or tablet doesn't have expandable storage, and it's a hell of a lot easier to add content to the Wi-Drive than it is to wrangle withiTunes. An excellent little gadget which is well worth the money.