Bayan Audio StreamPort Universal
Transform your Sound System with Wireless in less than 60 Seconds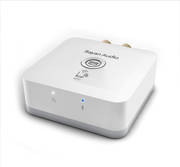 Retail Price:
£59.99
Release Date:
Hardware Category: Audio

Description:
Bayan Audio's StreamPort Universal is a wireless audio adapter which lets you stream impressive near-CD quality audio from media players (phones, tablets, notebooks) to existing audio/speaker systems without the need for cables - freeing up your favourite gadgets to stay by your side for browsing.

Many audio systems need media players to be physically connected, making them awkward to use and forcing a choice between music and tweeting, or Spotify radio and games. By enhancing these sound systems with the StreamPort™ Universal, your personal devices can finally stream audio whilst simultaneously being used to multi-task - without any need to compromise on quality or convenience.

The StreamPort™ Universal enables you to stream music, podcasts and Internet radio from any Bluetooth A2DP-compatible device (including many Apple, Android & Windows players) to your existing sound system (including Hi-Fi, docks and soundbars). Such extensive compatibility eliminates the need for you to worry about expensive upgrades or maintaining a single-brand system in order to enjoy quality wireless audio.

The StreamPort™ Universal also integrates NFC auto-pairing and Secure Simple Pairing technology. Not only do these intelligent features let you pair your device to enable wireless streaming in a super-fast 60 seconds or less, they provide a reassuringly simple set-up which avoids any complicated menus or frustrating button combinations - making it fuss-free for the whole family to use, even those who are less familiar with technology.

This perfect combination of stunning sound quality and pocket-sized wireless technology will breathe modern life into sound systems. Whether you use it to stream Internet Radio through your living room dock, enhance your iDevice game soundtrack using the TV surround sound, or even take it to a friends house to blast your Spotify party playlist, the StreamPort™ Universal is a must-have audio enhancement.

The StreamPort™ Universal is priced at £59.99 inc VAT and is available now from www.bayanaudio.com

Key Features

* Stream from any Bluetooth A2DP-compatible device up to 10m away
* Play audio through Hi-Fi, Soundbars, Home Theatre & Docking Systems
* Works with any sound system with a 3.5mm jack / RCA input
* One of the first wireless audio adapters with Smart Bluetooth 4.0 & NFC
* DAC and aptX audio codec for near-CD quality wireless streaming
* Works with new Apple devices including iPhone 5, iPads, iPods & Nano
* Works with most Android/Windows Smartphones/Tablets
* Also compatible with Amazon Kindle Fire HD
* NFC-Compatible for super-fast, touch-only pairing in 15 seconds
* Re-connect feature and LED Status indicator for handy visual reference
* Small, discreet design in black or white

Enjoy impressive near-CD quality audio without the wires:

Supporting the latest Bluetooth 4.0 Smart technology with A2DP V1.2, the StreamPort™ Universal is one of the world's first wireless audio adapters to feature the aptX audio codec - a newly released technology which delivers near-CD quality wireless audio reproduction.

Integrating a high quality DAC (digital to analogue converter), the StreamPort™ Universal delivers the superior audio quality of a wired connection - without the constraints. With a 10m wireless range, you can enjoy the freedom to control your tunes remotely, leaving your device free to stay by your side ready for browsing and tweeting without interruption.

Compatible with an extensive list of devices for fuss-free playback:

The StreamPort™ Universal will stream audio from any Bluetooth-enabled device which is A2DP compatible. This includes:

* Apple devices including iPhone 5 and Nano, iPad, iPod Touch and more.
* Most Android and Windows Smartphones,
* Notebooks/PC/Mac/Tablets (including Google Nexus)
* Amazon Kindle Fire HD

You can playback audio through any device which features either a 3.5mm jack or L/R RCA input. This includes most Hi-Fi component systems, TV Soundbars/Home Theatre, and docking systems, providing a versatile way to enjoy your tunes. Both types of cables required to connect it to your existing systems are included, so you can open the box and get going straight away.

What's more, the StreamPort™ Universal's pocket-sized design means it's easy to carry on your travels to connect to other systems outside the home. So, whether you want to liven up the office with some comedy podcasts, or supply a rocking playlist for a friends party – the StreamPort™ Universal's ability to let you connect your media player to almost any audio system makes it a truly versatile, must-have gadget for audio enthusiasts.

Incredibly quick and easy to connect - even without tech know-how:

The StreamPort™ Universal is reassuringly simple to connect to any A2DP-compatible media player - even for those new to gadgets - thanks to NFC auto-pairing technology and Secure Simple Pairing.

What's more, you won't waste any time getting the party started since the StreamPort™ Universal can be connected less than 60 seconds:

* For NFC-compatible devices such as an Android smartphone or tablets, just press and hold the button on the StreamPort™ Universal, touch the NFC logo with your device and the two will be paired.

* For other devices, Secure Simple Pairing provides effortless synchronisation; just enable Bluetooth on your media player, press and hold the button on the StreamPort™ Universal, and your device will ask you to connect.

The StreamPort™ Universal also boasts Auto Reconnect technology. So, all you need to do is switch on Bluetooth on your device, and the StreamPort™ Universal will automatically remember and reconnect to it.

Bayan Audio StreamPort™ Universal Technical Specification:

Bluetooth Version 4.0 (pairs with devices back to version 2.1)
Profile A2DP, AVCRP
Effective Range 10m (30 feet)
Power USB Mini B
Output 3.5mm Stereo jack socket, RCA or USB Digital Audio via USB mini B
Connects to Any audio system with the recommended port
NFC NFC Simple Bluetooth Pairing with any mobile phone supporting NFC
Dimensions 74mm x 65mm x 26mm
Weight 65g

Definitions:

A2DP (Advanced Audio Distribution Profile) - this profile defines how high quality audio (stereo or mono) can be streamed from one device to another over a Bluetooth connection.

apt-X - A digital audio data reduction technology consisting of a family of proprietary codec compression algorithms. aptX provides a compression codec to allow the streaming of near CD quality audio over a Bluetooth Connection.

Important Note: For near CD quality music streaming you must be using an aptX enabled source device for your music, and ensure that your music has been digitised at a high bit-rate. Bayan Audio recommends bit-rates of at least 320Kbits (Stereo), 48KHz sampling.
Technical Specifications:

Hardware Requirements:

Software Requirements: