Most Edifying
Introduction
A few years ago, I'd never heard of Edifier. But I've now encountered so many of their products, they are a household name (in my house at least!) They are computer/MP3 speaker specialists, and they have knocked out some nice little systems in the last few years. If anyone is looking for some competitively priced speakers for a computer or MP3 player, I will now usually point them at Edifier.
Their latest offering is the M1380 which "features two full range satellites tuned, calibrated and matched with the subwoofer to form a balance of clarity, richness and full audio output. The M1380 can be used solo or easily connected to any host device."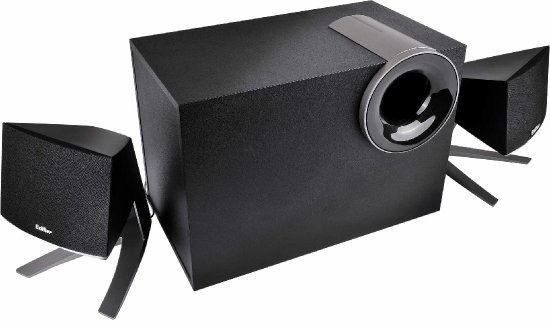 There's a left and right speaker, and a separate ported wooden subwoofer cabinet. There's also a separate volume control, which is attached to the subwoofer with its own cable, which also splits to include a 3.5mm plug to attach to your PC. This allows you to control the volume or mute the system. It also houses a 3.5mm jack for headphones, whilst the input jack for external sources is now on the subwoofer unit (a change from other Edifier systems).
In order to run these speakers you require mains power, which plugs into the subwoofer.
Operation
Pretty simple really. Unpack everything. Plug in to the mains. Plug in an audio source by connecting it to your computer's line out or by connecting any external audio source (e.g. MP3 player) to the line in jack.
Press the power button on the front of the subwoofer to switch on. Adjust the volume. Make some noise. Make quite a lot of noise. That's all there is to it.
Sound Quality
Another great set of PC/MP3 player speakers from Edifier. This is the best computer speaker that I've heard this year, and it compares well to all of the other Edifier systems I've seen. The subwoofer delivers a nice rich bass (adjustable on the subwoofer itself) and the high end response from the satellites is also good.
As usual, I've tried it out with spoken word material (podcasts, radio comedy shows) as well as music, and it handles them both equally well. I've said before that speakers are a very personal thing, but the Edifiers really work for me. I have to close the door to the office to appreciate them fully but they are most enjoyable...
Conclusion
Another great piece of kit from Edifier, and again at a very reasonable price. A good speaker system with a nice amount of bass and a clear sound.
If you want to improve the sound coming out of your computer or MP3 player, the Edifier M1380 is another great system - the only problem is working out which Edifier system to choose!
Recommended.