Honestech Audio Recorder 3 Plus with Cassette Player
Converts cassettes and other analog music into digital formats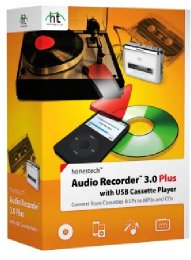 Retail Price:
£39.95
Release Date:
Hardware Category: USB

Description:
With the Audio Recorder 3.0 Plus, consumers can easily convert analog music such as vinyl records and cassettes easily into digital format including audio CD, MP3 CD or MP3 files. This all-in-one solution includes a USB stereo cassette player, USB cable and RCA cables. The USB cassette player allows users to easily convert old cassettes into MP3, MP3 CDs and audio CDs. RCA cables also allow you to connect almost any audio players to your PC.

Priced at £39.95, honestech Audio Recorder 3.0 software features an Easy Wizard Mode and Advanced Mode, allowing both novice and advanced users to easily use the software. The award winning software takes users step-by-step along with diagrams to help users set up with ease. The software can remove the unwanted static noise and control irregular input volume by increasing or decreasing as needed. Audio Recorder 3.0 Plus will also detect the audio gaps and splits the tracks automatically, enabling users to add ID3 tags for artist, song and album titles to help organize the music files.

Audio Recorder 3.0 Plus is an easy-to-use and is perfect for converting old analog music into digital formats. The included USB stereo cassette can be plugged into your PC directly by using the included USB cable, and you can also use any audio device with RCA or headphone jack using the RCA cable and adaptor included.
Technical Specifications:

Hardware Requirements:
Free USB port
Software Requirements:
Windows