So what is it?
Introduction
Well, for a start, it's another STM bag. They're knocking these things out like nobody's business. But each one is just that little bit different and everything in the range has a specific demographic in mind. This one has an identity crisis. Is it a shoulder bag? Is it a rucksack/backpack? Well, it's both. The STM switch is a shoulder bag that's also a backpack.
As with all STM bags, the switch is designed to carry your digital devices, cables, tickets, USB sticks, portable drives, keys and other daily items. It will accommodate most laptops up to a 17" screen, so that's most of the market covered, and it's available in black or "mushroom". It's constructed of 300D water resistant micro ripstop polyester with a soft brushed nylex interior and weighs around a kilo (2.2 lbs in old money).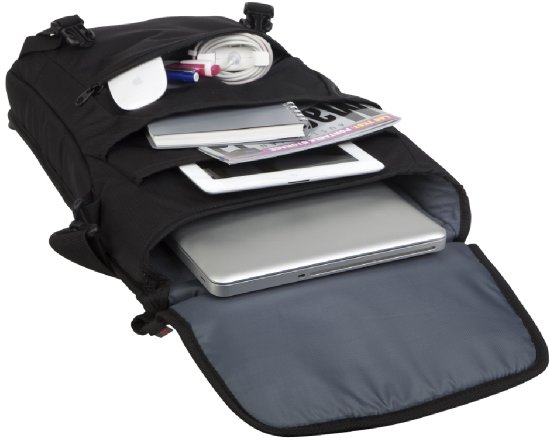 In Use
If there's not too much in it, then it makes a good shoulder bag. If you've really loaded it up, then it only takes a minute to convert it into a backpack so you can distribute the load across both of your shoulders. It's a quick and easy process to get the backpack straps ready for use.
There's room enough for your laptop, tablet and phone inside, as well as a few snacks, a drink, some papers, pens etc. The STM Revolution is the bag you want if you're looking for lots of space, but if you're just on a short day trip or similar, the switch is about ideal - like most STM bags there are plenty of little pockets and compartments in which to stash your stuff.
Unlike the Revolution, the backpack "mode" is not designed for anything other than urban walking, as there's no waist strap or chest strap, but you'll be fine on the commute to/from work.
Conclusion
Another great little travel companion from STM. This bag was good for taking to and from work. You can use it like a backpack if you're cycling, and then use it as a shoulder bag if you're just walking somewhere later on. Plenty of room for all of your daily paraphernalia, and it would be good for taking to conferences and the like too. There's plenty of space for your laptop and/or tablet, as well as space for cables and chargers and so on.
The STM stash is available in only one size, but it should fit most laptops up to 17". Another great STM bag!