Plextor SATA III 2.5" SSD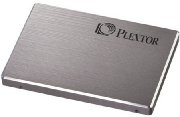 Retail Price: Release Date:
Hardware Category:

Related Websites:
http://www.plextor-digital.com/index.php/en/Solid-State-Disk-SSD/px-256m2s.html

Description:
The Plextor M2S series SATA 6Gb/s SSD o rs 64 GB high-speed data storage with stable long-term performance, and a predicted 10-year lifespan. The drive achieves this unequaled long-term stability by incorporating Plextor's unique Instant Restore technology to overcome the performance loss associated with constant use. A server grade Marvell controller provides additional drive reliability. Featured is the latest high bandwidth SATA 6Gb/s interface for fast transfer times. Performance, stability, and lifespan are improved by both the generous 128MB DDR buffer and even disc usage through the Dynamic Wear Leveling system. The Plextor M2S series is ideal for users who require consistently high transfer rates from their SSD, who expect a long product life, and who demand uncompromising stable performance in real use situations.
Technical Specifications:
Plextor M2s Px-256m2s - Solid State Drive - 256 Gb - Sata-600
• Product Description : Plextor M2S PX-256M2S - solid state drive - 256 GB - SATA-600
• Type : Solid state drive - internal
• Form Factor : 2.5"
• Capacity : 256 GB
• Interface Type : Serial ATA-600
• Data Transfer Rate : 600 MBps
• Buffer Size : 128 MB
Hardware Requirements:

Software Requirements:
Windows 7/XP/Vista/Linux/Mac OS