FaceVsion N1 TouchCam
HD at anytime anywhere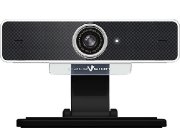 Retail Price:
£70
Release Date:
Hardware Category:

Related Websites:
http://www.facevsion.com/en/modules/tinyd1/index.php?id=12

Description:
FV TouchCamTM N1, a HD VideoCam with embedded H.264 encoder chip and dual microphones supporting beamforming technology, offers synchronized, crystal clear HD video (720p, 3X DVD resolution) and superior audio quality.

Now Skype users can enjoy HD-quality video calling by using FV TouchCamTM N1 . It helps you to build a closer relationship with friends and family or discuss with business partners effectively across difference time zones.
Technical Specifications:
Dimension: 100(W)x45(D)x60(H)mm
Weight: 90g
Lens: 1G4P+IR, VCM Auto-focus
Depth of Focus: 10cm ~ infinity
Aperture: F/2.0
FOV: 78.1°
Microphone type: Unidirectional dual microphones
Frequency: 100-12000Hz
Sensitivity: -47dB+/-4dB
SNR: >60dB
Effective Pixel: 1280 x 800 (MAX)
Output Image Size: HD, WVGA, VGA, CIF, QVGA, QCIF.
Video format:
720P, H.264, 22fps
WVGA, YUV, 30fps
Frame rate:
22fps at HD (1280x720) with H.264
30fps at WVGA (768x 480) with YUV
Hardware Requirements:

Software Requirements: