LiteOn iHAS524 Internal 24x DVD Writer
World's Fastest Drive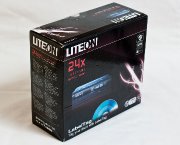 Retail Price:
£29.99
Release Date:
2/12/2009
Hardware Category: Optical

Related Websites:
http://www.liteonit.com/global/index.php?option=com_content&task=view&id=298&Itemid=67#

Description:

LabelTag
Serial ATA
Higher transfer rates with SATA connection (compared to PATA)
Future proof; compatibility with the latest motherboards
Better airflow in PC casings due to smaller cable and plug sizes
SATA supports "hot swap" (must be supported by your motherboard)
Super AllWrite
Super AllWrite is the compatibility standard from Lite-On to offer the ability to read, write and re-write to any disc format on the market.
Use your DVD writer for any purpose with the media you desire (including CD-R, CD±RW, DVD±R, DVD±RW, DVD±R DL, DVD-RAM format discs)
Purchase your media without hassle; you no longer have to worry about compatibility.
Smart-Burn
SMART-BURN is a technology developed by Lite-ON. It can automatically adjust writing strategy & running OPC to provide the best burning quality and avoid Buffer Underrun error as well.
SMART-X(*2) function adjusts CD-DA / VCD / DVD data extraction to a fastest allowable speed according to both data request rate from host and disc quality.
ABS
ABS system reduce vibration and noise during recording and reading.
Technical Specifications:
DVD+R 24*
DVD+R DL 12X
DVD+RW 8X
DVD+RW 6X
DVD+RAW 12X
DVD+ROM 16X
CD-R 48X
CD-RW 32X
CD-ROM 48X
Random Access Time CD: 150ms, DVD:160ms (typical)
Interface Serail ATA (SATA)
Buffer Size 2MB
Dimensions 146(W) x 41.3(H) x 170(D)mm
Weight <600g(max)
Hardware Requirements:
PC Required
Pentium 4 1.3GHz or higher CPU
128MB RAM or higher RAM are required
650MB available capacity ; 9GB free HDD space or higher
Software Requirements:
Microsoft Windows 2000
Microsoft Windows XP
Microsoft Windows Vista
Microsoft Windows Windows 7