Hercules eCafe EC-1000W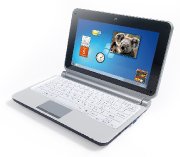 Retail Price: Release Date:
Hardware Category: Netbook

Related Websites:
http://www.hercules.com/uk/ecafe/

Description:
Attractive, never-before-seen design

Unique Software Pack

eCAFÉTM Email Center


Easy configuration for immediate access to all your different mailboxes
"Pop-up" alerts for new emails
Separate, intuitive management of your mailboxes: switch from one to another with a single click
Integrated management of all your contacts
Your emails are saved on your eCAFÉTM: read them even when you're not connected to the Internet!
Remote use: retrieve and send
eCAFÉTMCONNECT
View all available WiFi networks and easily connect to the network of your choice
Connect to the Internet quickly, thanks to the intuitive interface
Easily save all the WiFi networks you use, and your eCAFÉTM will connect to them automatically when they are available
eCAFÉTM Update Manager
Update your eCAFÉTM software whenever you want
Install new software dedicated to your eCAFÉTM
You choose the updates and software you want to install: you have total control over your downloads
eCAFÉTM Webcam Station + Xtra Controller Pro
Take full advantage of your webcam with built-in microphone for your chats
Take pictures in single shot, burst and timer modes, capture videos and send your creations by email with just one click!
Enhanced "Chat & Show" feature: in addition to embedding your photos in your chat sessions' video flow, you can play your video files live while you comment on them. Have fun dubbing your favorite actors live or record your performances using Webcam Station Evolution!
3x digital zoom and automatic face tracking feature
Also show what you are viewing - live (e.g. the website you are currently viewing, etc.)!
Hilarious new effects (pop art, Flash animations and more)
OpenOffice.org® v3
With OpenOffice.org® Version 3, all of your documents are easily accessible: word processing, spreadsheets and presentations
Compatible with Microsoft® Office (.doc, .xls and .ppt formats)
Complete antivirus software with spyware protection: avast!® Home Edition
Simple to use and automated: Daily automatic updates ensure continuous data protection against all types of malware and spyware
Tried and trusted: over 80 million users worldwide
Windows® 7 Starter
Instantly locate and open virtually any file on your PC, from documents to emails to songs, right from the Start menu, just by typing a word or two, with Windows Search.
Open files and get around your PC faster with the improved taskbar. You can even pin programs you use often to the taskbar so you can launch them in just one click.
Open files you use regularly in just two clicks with Jump Lists.
Windows 7 has simple new ways to resize and organize open windows.
Connect your eCAFÉTM to home networks in just four clicks and easily get to the photos, music, and files on each one - even share printers - with HomeGroup.
Windows 7 is designed to make your eCAFÉTM more reliable and responsive.
+With Windows Live Mail, you can manage your email accounts and share photos by email easily. Put them right in the email and send them without big attachments that can clog inboxes.
+ Windows Live Messenger is the easy way to chat, play games, and share photos, instantly.
+ Organize, edit, and share photos easily with Windows Live Photo Gallery.
+ Browse the Web faster and easier with Internet Explorer® 8.
+ Windows Live Movie Maker is the easy way to turn photos and videos into great-looking movies and slideshows you can share on the Web.
Technical Specifications:
Glossy screen: 10.1 inches; 1024*600, high brightness
Storage: 250GB HDD (SATA) - 2.5" / 5400 rpm + additional 50GB available online*
Processor: Intel® Atomtm N270 (1.6GHz)
RAM: 1GB
WiFi N technology
Battery capacity: 4400 mAh (6 cells)
Comfortable keyboard with separated, flat keys - 88% of a standard keyboard
Connectors
1x VGA, 3x USB, 1x Headphones, 1x Microphone, 1x LAN RJ45, 1x DC-in 12V, 1x Card reader: SD/MMC/SDHC/MS
Webcam with built-in microphone
Hardware Requirements:

Software Requirements: