Varta V-Man Powerpack
Power on the go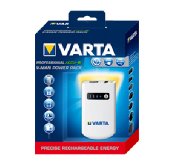 Retail Price:
£34.99
Release Date:
01/10/2009
Hardware Category: Charger

Related Websites:
http://www.varta-consumer.co.uk/content.php?path=/1686_1254993757.html&domain=www.varta-consumer.co.uk

Description:
Do you not wish you could charge your mobile, mp3 player or satnav whenever and wherever you wanted? Even when you are travelling and there is not a power socket in sight? Then look no further. The new VARTA V-Man Power Pack is a complete and innovative solution for portable high-tech devices. Stylishly designed in white and with a comprehensive adapter kit, the V-Man is the ideal travelling companion.
Technical Specifications:

Hardware Requirements:

Software Requirements: