Power in your pocket
Introduction
With Christmas fast approaching, the thoughts turn to portable gadgets. We've all getting more and more of them, from phones to cameras to MP3 players, portable speakers, GPS devices and more. In the past this would have meant a proliferation of batteries for each device, or at best several sets of rechargeables.
Nowadays, most devices have their own rechargeable batteries built in. But they almost always use different systems or special chargers, which means that you need to carry round lots of different cables and plugs wherever you go.
Step forward the Varta V-Man Powerpack. Essentially it is a rechargeable battery which you can then use to charge your various devices. More on all of that in a moment.
Given its size and portable nature it's absolutely ideal for travelling.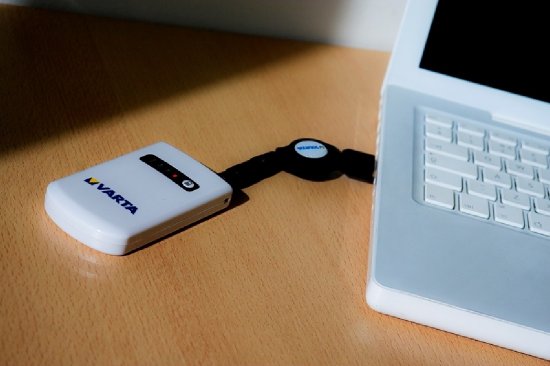 Set Up
Take it out of the box. You then need to charge it up. You can do this via the mains, using the supplied mains transformer with a USB socket which you then plug the Powerpack into, or by attaching it to a USB socket on a computer.
It is supplied with various adapters to fit almost all devices including iPod, iPhone, Nokia devices, Samsung deivces, LG devices, Sony Ericsson devices, and various other GPS, PDA and handheld devices. If your device comes with a USB cable, then it should work with this.
In Use
Does something need charging up? Attach it to the Powerpack, and it gets charged up. Simples. An LED indicator shows how much charge remains in the Powerpack. The press release states that you should be able to charge 2 mobile phones or 10 MP3 players.
I've charged up various things using it without any problem, mostly my own mobile phone (Sony Ericccson) and some USB portable speakers. Apparently some devices require a special adapter to simulate data communication on the USB port, so one is included in the box.
It works. And that's all there is to it.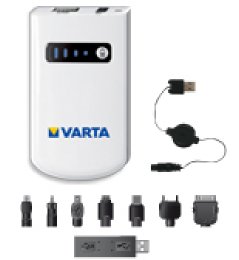 Conclusion
A brilliant little gadget that might just get you out of a tight spot when you really need to charge up one of your devices. It would be great for going out walking or going camping fro the weekend. I took a similar device camping over the summer (Freeloader Pro solar charger) and it was very useful. This will be almost as useful - the only downside is that you have to charge it up again from the mains or a computer. But as you're only really going to need it for a short while, the amount of charge that it stores should be ample for your needs.
It's very light and very compact, so it's a perfect travelling companion. Your friends will be grateful when you help them out of a tight spot by charging their phone up before a long trip home (I speak from personal experience!)
An ideal Christmas gift for friends or family who like travelling and might want to charge up their gadgets whilst there!