Ricoh CX2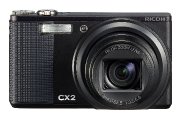 Retail Price:
£299
Release Date:
01/08/2009
Hardware Category: Digital Camera

Description:
The Ricoh CX2, a new digital camera featuring a high magnification 10.7x (28-300 mm) optical wide-angle zoom lens in a compact body only 29.4 mm thick. The CX2 is capable of 5 frame/second high-speed continuous shooting of still images with the maximum number of pixels.

The new CX2 inherits many popular features from its predecessor, the CX1 (introduced March 13, 2009), such as the high image quality and expanded dynamic range made possible by image processing engine Smooth Imaging Engine IV and a high-speed image processing CMOS sensor. At the same time, it enhances functions that expand photo possibilities in a number of areas, including a 10.7x optical zoom lens that expands shooting capabilities from wide-angle through telephoto range, high-speed continuous shooting (approx. 5 frames/sec. at maximum number of pixels) functions so you won't miss the target scene, and the easy-to-use AF functions Pre-AF and Continuous AF.

New scene modes such as "high-contrast B&W mode" and "miniaturize mode" have been added to stimulate shooting creativity, and various CX1 model functions have received enhancements, such as the addition of face recognition to easy shooting mode and the addition of an AUTO option for automatically defining the range expansion effect in dynamic range double shot mode.

With its expanded range of functions for the relaxed enjoyment of photography, the CX2 represents the further evolution of the compact digital camera as "a tool you will want to use every day."
Technical Specifications:
No. of Effective Pixels: Approximately 9.29 million pixels

Image Sensor: 1/2.3-inch CMOS (total pixels: approx. 10.29 million pixels)

Lens:

Focal length: f=4.9-52.5 mm (equivalent to 28-300 mm for 35 mm film cameras. With Step Zoom set, option of eight fixed lengths: 28 mm, 35 mm, 50 mm, 85 mm, 105 mm, 135 mm, 200 mm, and 300 mm)

F-aperture: F3.5 (Wide) - F5.6 (Telephoto)

Shooting Distance: Normal shooting: Approx. 30 cm - infinity (Wide), approx. 1.5 m - infinity (Telephoto) (from the front of the lens)

Macro: Approx. 1 cm - infinity (Wide), approx. 28 cm - infinity (Telephoto), approx. 1 cm - infinity (Zoom Macro) (from the front of the lens)

Lens Construction: 10 elements in 7 groups (aspheric lens: 4 elements and 5 surfaces)

Zoom Magnification:

Optical: 10.7x zoom (equivalent to 28-300 mm focal length for 35 mm cameras)

Digital: 4.8x up to 51.4x (equivalent to 1440 mm) when used with optical zoom

Auto Resize: 5.4x up to 57.8x (VGA image size, equivalent to 1620 mm) when used with optical zoom

Focus Mode: Multi AF (contrast AF method) / Spot AF (contrast AF method) / Continuous AF / Multi-Target AF / Manual Focus / Fixed Focus (Snap) / Infinity (AF auxiliary light)

Motion Blur Reduction: Image sensor shift method image stabilizer

Shutter Speed: (varies depending on Shooting Mode and Flash Mode) : Still image: 8, 4, 2, 1 - 1/2000 sec. / Movie: 1/30 - 1/2000 sec.

Continuous Shooting: Values measured under Ricoh measurement conditions using a Panasonic PRO HIGH SPEED 8GB SDHC memory card. The continuous shooting speed and number of pictures will vary depending on the shooting conditions, the type of recording media used, the condition of the recording media, etc.

Continuous shooting speed: approx. 5 frames/sec. (F3456, F3:2, F1:1 shooting time; shooting speed after 60 pictures is approx. 3 frames/sec.)

Continuous shooting capacity: 999 pictures

Exposure Control:

Exposure Metering Mode: Multi (256 segments), Centre Weighted Light Metering, Spot Metering

Exposure Mode: Program AE

Exposure Compensation: Manual Exposure Compensation +/-2.0EV (1/3EV Steps), Auto Bracket Function (-0.5EV, ±0, +0.5EV)

ISO Sensitivity (Standard Output Sensitivity): AUTO, AUTO-HI, ISO80 / ISO100 / ISO200 / ISO400 / ISO800 / ISO1600

White Balance Mode: AUTO / Multi-Pattern AUTO / Outdoors / Cloudy / Incandescent / Incandescent 2 / Fluorescent / Manual, White Balance Bracket Function

Flash:

Built-in flash mode: Auto (during low light and when the subject is backlit), Red-eye-Reduction, Flash On, Slow Synchro, Flash Off

Built-in flash range: Approx. 20 cm - 3.0 m (Wide), approx. 25 cm - 3.0 m (Telephoto) (ISO Auto/ISO 400, from the front of the lens)

Flash compensation: +/-2.0EV (1/3EV Steps)

Monitor: 3.0-inch Transparent LCD (approx. 920,000 dots)

Shooting Mode: Auto Shooting Mode / Easy Shooting Mode / Dynamic Range Double Shot Mode / Continuous Shooting Modes (Continuous, M-Continuous Plus, Ultra-High-Speed Continuous) / Scene Modes (Portrait / Sports / Night Portrait / Landscape / Nightscape / High Sensitivity / Manner / Zoom Macro / High-Contrast B&W / Miniaturize / Skew Correction / Text) / My Settings Mode / Movie Mode

Picture Quality Mode: F (Fine) / N (Normal)

No. of Pixels Recorded:

Still image/multi-picture: [4:3] 3456x2592, 3072x2304, 2592x1944, 2048x1536, 1728x1296 (M-Cont Plus), 1280x960, 640x480 / [3:2] 3456x2304 / [1:1] 2592x2592

Movie: 640x480, 320x240

Text: 3456x2592, 2048x1536

Recording Media: SD memory card (32, 64, 128, 256, 512 MB, 1GB, 2GB), SDHC memory card (4GB, 8GB, 16GB, 32GB), Internal memory (approx. 88MB)

Estimated Storage Capacity (Pictures/Time):

Still image/multi-picture: 3456x2592 (F: 24, N: 42) / 3456x2304 (F: 27) / 2592x2592 (F: 33) / 3072x2304 (N: 53) / 2592x1944 (N: 72) / 2048x1536 (N: 109) / 1728x1296 (N: 143)(M-Cont Plus) / 1280x960 (N: 175) / 640x480 (N: 705)

Movie: 640x480: 15 frames/sec. (1 min. 42 sec.), 320x240: 15 frames/sec. (4 min. 19 sec.) / 640x480: 30 frames/sec. (51 sec.), 320x240: 30 frames/sec. (2 min. 12 sec.) The maximum length for one instance of movie recording is 90 minutes or the file size upper limit of 4GB.

Recording File Formats:

Still Image: JPEG (Exif ver. 2.21, Compatible with DCF and DPOF)

Multi-picture: CIPA DC-007-2009 Multi-Picture Format

Movie: AVI (Open DML Motion JPEG Format compliant)

Compression method: JPEG Baseline method compliant

Other Major Shooting Functions: Continuous, Self-Timer (operation time: approx. 10 sec. / approx. 2 sec. / custom self-timer), Interval Timer (Shooting interval: 5 sec. - 1 hour (5 sec. steps) with flash off, Colour Bracket function, Focus Bracket function, AE/AF Target Shift, Histogram, Grid Guide, Electronic Level

Other Major Playback Functions: Grid View, Enlarged Display (maximum 16x), Resize, Level Compensation, White Balance Compensation, Trim, Flag, Slideshow, DPOF Setting

Interface: USB 2.0 (High-Speed USB) Mini-B, Mass storage compatible / AV Out 1.0Vp-p (75Ω )

Video Signal Format: NTSC, PAL switchable

Power Supply: Rechargeable Battery: DB-70 x1, AC adapter (AC-4g option)

Battery Consumption: Based on CIPA Standard: Using the DB-70, approx. 290 pictures (when LCD Dim is on, 270 if LCD Dim is off)

External Dimensions: 101.5 mm (W) x 58.3 mm (H) x 29.4 mm (D) (excluding projecting parts)

Weight: Approx. 185 g (excluding battery, SD memory card, strap), Accessories approx. 23 g (battery, strap)

Operating Temperature Range: 0ºC-40ºC
Hardware Requirements:
USB port
Software Requirements: