August DA900C Digital & Analogue TV/Media Player/Recorder
Freeview on the move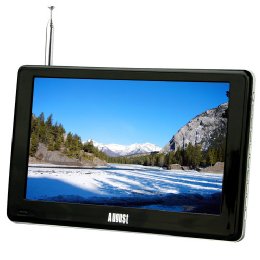 Retail Price:
£134.99
Release Date:
Hardware Category: TV

Related Websites:
http://www.augustint.com/

Description:
The August DA900C is a TV, Multimedia Player and Recorder all-in-one. The analogue and Freeview tuners enable you to watch over 40 Freeview channels and 5 analogue channels, listen to all digital radio stations. It is a multimedia player, plays video, music, photos in MP3, WAV, MPEG4, AVI and JPEG formats from a memory card or USB memory stick. It also supports real time and scheduled Freeview TV recording to an USB stick or external hard drive (FAT32 format).

Super slim and smartly designed, it is an ideal handheld portable TV and media player for your holiday, caravan, boat, bedroom or kitchen, and can also output TV and video to a large screen in your
home as a Freeview set-top box and digital media player.
Technical Specifications:

Hardware Requirements:
• Analogue tuner for the popular 5 TV channels
• Digital tuner for over 40 Freeview channels
• All digital radio stations
• 9" TFT LCD display panel, resolution 640 x 234
• Brightness: 250 cd/m²
• Contrast: 150:1
• Display aspects 16:9
• Supports PAL & SECAM
• Auto program search
• Sleep & wake-up function
• Real time & scheduled digital TV recording via USB
• Supports 7day EPG, Subtitle, Freeview Teletext
• Plays MP3, WAV, JPEG, MPEG4 & AVI files
• Power supply from mains or optional car adaptor
• Dimension: 238x145x24 mm
• Weight: 524g

In/Output Ports:
• AV In
• AV Out
• SD/MMC Card Reader
• USB Port
• External Antenna In
• Earphone Jack
• Power Input

Accessories:
• AC power adaptor
• 12-24v car adaptor (Optional)
• Portable antenna with magnetic base
• Remote control with battery
• AV cable
• Stand
• User's manual
Software Requirements: