Verbatim 500Gb Executive Portable Hard Drive
High-end portable HDD with turbo speed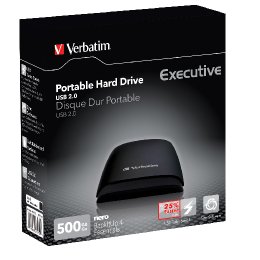 Retail Price:
£99.99
Release Date:
Hardware Category: USB Hard Drive

Related Websites:
http://www.verbatim-europe.com/

Description:
The Verbatim Executive Portable Hard Drive is an external 2.5" hard drive with a storage capacity of 500GB. Three pre-loaded software programs deliver increased data transfer speeds, synchronisation of data and folders, and backup functionality. Encased in sophisticated, hi-tech rubber the Verbatim Executive comes with a free carry pouch.

Equipped with USB turbo speed software, Verbatim's new drive achieves up to 25 percent faster read and write speeds than conventional external hard drives with a USB connection. This is made possible through optimized compression of the data during transfer.

The Verbatim Sync software on the Executive helps organize all files: it reliably synchronises Microsoft Outlook or Windows Mail contacts and calendar entries, as well as other files, photos and videos from the PC or laptop. Consequently, information can be accessed anywhere, allowing users to carry on working in wherever part of the world they may be. 128-bit AES encryption also enables data to be encrypted and secured with password protection against unauthorized access.

The Verbatim Executive also comes with Nero BackItUp 4 Essentials for reliable backups. An external power pack is not required as its USB 2.0 interface provides all the power it needs.
Technical Specifications:
Verbatim 500Gb Executive Portable Hard Drive
Form Factor 2.5"
Colour : Black
Spindle Speed 5400 rpm
USB bus powered
Hardware Requirements:
USB socket
Software Requirements: