Asus Eee PC Seashell 1005HA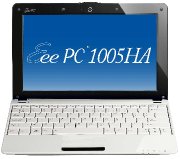 Retail Price:
£379.99
Release Date:
Hardware Category: Laptop

Related Websites:
http://uk.asus.com/

Description:
The 1005HA can provide up to 10.5 of battery life on a single charge.

It is one of the first Eee PC™ Seashell netbooks with a replaceable battery design. By carrying a second battery pack, users can continue to work away from power sources for even longer periods of time.

One of the most energy-efficient models yet, with Intel® Atom processors and Super Hybrid Engine technology which optimises power settings for the best balance between performance and power conservation to optimise battery life.

The Eee PC™ 1005HA keyboard is designed for user comfort. The large 92% keyboard sizing with full-size shift
keys is enhanced with extra-wide palm rests to provide comfort and reduce fatigue over prolonged use.

The seamless touchpad integrates multi-touch support, allowing users to zoom and scroll images and documents with fingertip control.

The Eee PC™ 1005HA features the Seashell's familiar slim profile and razor-thin edges to offer optimum portability alongside a sleek and stunning finish.

The lightweight, slender design is made possible through the integration of the new ASUS motherboard that occupies minimal space inside the housing whilst providing incredible thermal management for unrivalled quality and reliability.

The Eee PC™ 1005HA is one of the first Eee PC™ models to offer the new Eee Docking software, which provides a non invasive 'dock' on the top of the screen allowing one-stop access to the following:

eeE[at]ebiV: convenient access to music, videos, radio stations and more
Eee Sharing: allows sharing and syncing of messages and data with other Eee PC users and Desktop PCs, even without an Internet connection.
Eee Xperience: a suite of applications enhancing the visual and audio performance of the Eee PC
Eee Tools: a collection of useful tools including Parental Control.
Technical Specifications:
Key Features

Intel® Mobile (Atom) N270 1.6GHz
10.1" LED backlit display
Removable Li-Ion battery with up to 10.5* hours lifetime
160GB HDD Storage + 10GB Eee Storage
Wi-Fi 802.11n
Bluetooth 2.1 (model dependent)
1.3 megapixel Web Cam (model dependent)
3 x USB ports
Windows XP Home
Available in Black or White
Hardware Requirements:

Software Requirements: