HANNspree SD8073 8" Digital Photo Frame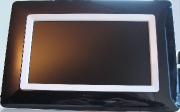 Retail Price:
£59.99
Release Date:
17/12/2008
Hardware Category: Photo Frame

Related Websites:
http://www.misco.co.uk/

Description:
Following its recent entry into the Digital Photo Frame market, designer display specialist, HANNspree, is pleased to announce the launch of its next digital photo frame solution, the SD8073. Utilizing its vast experience in the display market, HANNspree has created a fantastic combination of; high quality imagery, an extensive list of both practical and fun features (such as an interchangeable frame surround) and an affordable price tag.

The SD8073's impressive 8" digital widescreen display boasts a high-resolution of 800 x 480, as well as, high brightness and contrast to ensure that all images are displayed with precise detail and vivid colour. Supporting image and video playback the SD8073 delivers stunning picture quality for ALL those very special captured memories.

The SD8073 also supports MP3 playback and includes two generous 1.5W built-in speakers so that you can not only display your photos and videos but also simultaneously play your favourite music.

If you want to be really creative and bring your photo slide show to life, a clever management system and slide show features galore deliver a fun and creative alternative to a conventional photo album. Numerous different transition effects, full and thumbnail view, rotation, pan, tile and zoom functions all give complete control of your photo viewing experience.

A built-in 6 in 1 card reader and a USB 2.0 port enable the simple transfer of your favourite images, videos and audio onto the SD8073 whilst 64MB SDRAM as standard provides plenty of storage space.

On top of all this, the SD8073 includes both calendar and alarm functions making it the perfect accessory to a bedside table, a wall mountable design for extra versatility, plus HANNspree provides a second interchangeable frame surround as standard allowing you or your loved ones to choose a favourite design.
Technical Specifications:

Hardware Requirements:

Software Requirements: