Amazon Treasure Truck: Finn Balor Exclusive Event
Main Performer: WWE's Ricochet
Venue: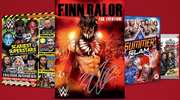 About this Event:
We have a rather exciting exclusive happening on Friday 8th November in partnership with the Amazon Treasure Truck.
On offer are Limited Edition hand signed copies of Finn Balor's latest DVD 'For Everyone'. The artwork is exclusive to Amazon Treasure Truck and is available 16 days before the official retail release date! This offer also includes a WWE goodie bag which includes WWE Topps cards, a WWE magazine, and a SummerSlam DVD!
External Image:
https://fetch.fm/media/uploads/froala_editor/images/1573039948011.png
But wait, there's more!! A special guest appearance has also been confirmed from #RAW Superstar @KingRicochet who will be at the Amazon Treasure Truck at New Bailey, Manchester from 11am - 1pm on Friday 8th November.
External Image:
https://fetch.fm/media/uploads/froala_editor/images/1573039990079.png
To find out how to get your hands on this exclusive hand-signed DVD sign up for Treasure Truck
amazon.co.uk/ttgo
Event Type: Amazon Treasure Truck Exclusive
Event Date: 08/11/2019
Ticket Price:
Running Time:

Related Websites:
https://www.amazon.co.uk/tt/webview/oobe/proposition?tag=myrev09-21

Performers:
WWE
Ricochet
Amazon

Producers:
WWE
Amazon