Very Best Of Rising Damp, The (UK)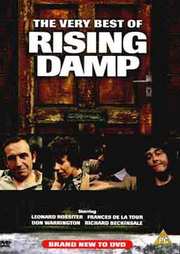 5 episodes
Certificate: PG
Running Time: 120 mins
Retail Price: £19.99
Release Date:
Content Type: TV Series
Synopsis:
At its peak, over 18 million viewers tuned un to observe day-to-day events at Rigsby`s dingy boarding-house in Eric Chappell`s hilarious sitcom, Rising Damp. The landlord from hell, Rupert Rigsby prowled around his dilapidated eyrie, poking his nose into his lodgers` affairs.

The biggest bigot alive, Rigsby took great solace in picking an argument with Alan and Philip - both students studying at the nearby university - in their claustrophobic attic room, while having nothing but kind words for Miss Jones, the object of his desire, who lived in the bedsit below.

Over four years 28 episodes were transmitted and like all genuine classics the sitcom has survived changes in fashion and attitudes to remain just as funny today as when it was first transmitted, over a quarter of a century ago.

Includes the episodes: Charisma, A Perfect Gentleman, For The Man Who Has Everything, Stage Struck, `Come On In, The Waters Lovely`.
Special Features:
Interactive Menus
Scene Access

Video Tracks:
Standard 1.33:1

Audio Tracks:
Dolby Digital Mono English

Directed By:
Len Lurcuck
Vernon Lawrence
Ronnie Baxter

Starring:
Richard Beckinsale
Don Warrington
Frances De La Tour
Leonard Rossiter

Producer:
Vernon Lawrence
Ronnie Baxter

Distributor:
VCI