Dawson`s Creek: Best Of Seasons 1 & 2 (UK)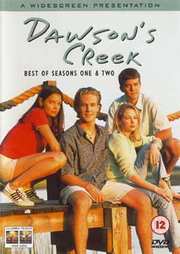 Featuring the episodes: `The Scare`, `Beauty Contest` `The Kiss` and `His Leading Lady`
Certificate: 12
Running Time: 90 mins
Retail Price: £19.99
Release Date:
Content Type: TV Series
Synopsis:
The best of seasons 1 & 2 from the successful TV series in which four teenagers from a small costal town near Boston struggle to come to terms with adolescence.

The Scare
It`s Friday the 13th in Capeside and Dawson (James Van der Beek - Varsity Blues) has plans to orchestrate a few of his infamous bloodcurdling practical jokes when all gather at the Leery house for some heart pounding fun. But when the power goes out, the phone lines are cut and unexplained noises appear, it seems the terror at hand may not be Dawson`s doing after all...

Beauty Contest
Capeside`s annual beauty contest gets turned on its ear when it draws some unexpected contestants. Joey (Katie Holmes - Go) decides to enter in the hope of winning the $5,000 prize for her college tuition. Pacey (Joshua Jackson - Cruel Intentions), determined to move out of his family`s house and get his own place, challenges the rules to become the very first male to enter the competition!

The Kiss
After their first kiss, Dawson and Joey fall prey to the all too normal insecurities and uncertainties that accompany the birth of a romance.

With Joey`s impending trip to France and Dawson`s lingering feelings for Jen (Michelle Williams - Halloween H20), it seems as if the deck is stacked against the new couple.

Meanwhile, Pacey meets new girl in town, Andie McPhee (Meredith Monroe), who gives him a taste of his own medicine after he masquerades as a police officer...

His Leading Lady
Dawson and Joey continue struggling to redefine their post break-up friendship while Dawson desperately searches for a leading lady for his second movie. But when he finally finds his girl (Rachel Leigh Cook - She`s All That), she may be more than he can handle.

In the meantime, Andie decides she no longer has time for a relationship - but Pacey won`t go away that easily. And while shooting Dawson`s film, Jen befriends an intriguing stranger...
Special Features:
Interactive Menus
Scene Access
Talent Profiles
Isolated Score
Trailer

Video Tracks:
Widescreen Anamorphic 1.78:1

Audio Tracks:
Dolby Digital Surround 2.0 English
Dolby Digital Surround 2.0 Spanish
Dolby Digital Surround 2.0 German
Dolby Digital Surround 2.0 Italian
Dolby Digital Surround 2.0 French

Subtitle Tracks:
French
Hebrew
Icelandic
Polish
Czech
Italian
Hindi
Swedish
Finnish
Turkish
English
Spanish
German
Portuguese
Greek
Hungarian
Dutch
Arabic
Danish
Norwegian

Starring:
Meredith Monroe
Kerr Smith
Michelle Williams
Joshua Jackson
Katie Holmes
James Van Der Beek

Casting By:
Marcia Shulman
Ellie Kanner
Lorna Johnson

Soundtrack By:
Stephen Graziano
Adam Fields
Paula Cole

Director of Photography:
Frank Perl
Daryn Okada
Levie Isaacks
Karl Herrmann

Editor:
Daniel A. Valverde
Michael Thau
Jan Northrop
Marshall Harvey
Christopher Cooke

Costume Designer:
Alonzo Wilson
Scilla Andreen-Hernandez

Production Designer:
John D. Kretschmer
Alan Hook

Distributor:
Columbia / Tristar