Sherlock Holmes and the Baker Street Irregulars (UK)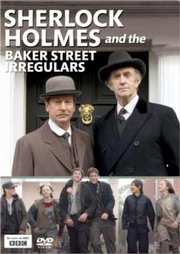 Holmes Framed?
Certificate: PG
Running Time: 120 mins
Retail Price: £16.99
Release Date:
Content Type: TV Series
Synopsis:
Jonathan Pryce and Bill Paterson head the cast of Sherlock Holmes And The Baker Street Irregulars, an original Sherlock Holmes mystery.

Written for BBC One and CBBC by Richard Kurti and Bev Doyle (Kidnapped, Robin Hood, Primeval), this new family drama pits Holmes and the Irregulars against one of the famous detective`s greatest enemies.

The rag-tag group of street kids known as the Irregulars first appeared in the Sherlock Holmes novel A Study In Scarlet in 1887.

This time, the Irregulars find themselves having to solve the mysterious disappearance of two of their own gang, while Holmes himself is accused of murder and put under house arrest.

Only by combining all their skills can they hope to free Holmes and the kidnap victims, solve the murders and prevent an audacious heist.
Special Features:
Cast Filmographies
A Biography and Bibliography of Sir Arthur Conan Doyle
Picture Gallery

Starring:
Anna Chancellor
Bill Paterson
Jonathan Pryce