Tenchi Muyo: Movie Box Set (UK)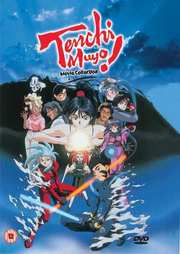 All three Tenchi movies
Certificate: 12
Running Time: 250 mins
Retail Price: £29.99
Release Date:
Content Type: TV Series
Synopsis:
Tenchi Muyo In Love

The merciless criminal Kain has escaped his sub-space prison and destroyed the Galaxy Police Headquarters! Deprived of his freedom by the Jurai royal family and the Galaxy Police, Kain`s first priority is to exact his vengeance on the Jurai family. Meanwhile, on Earth, Tenchi`s house has suddenly disappeared and Tenchi himself, begins to vanish! Washu determines that something has happened to Tenchi`s mother and everyone travels to 1970 to save the past.

Daughter Of Darkness

On a hot summer day, a fetching young girl named Mayuka appears to Tenchi, calling him Daddy! Jealousy and envy follow as Ryoko and Ayeka battle for Tenchi`s attention with this new arrival. Who could the mother be?! Hiding in the background, Yuzuha, the Demoness of Darkness, is about to get her revenge against Tenchi`s grandfather, Yosho, for a grudge Yuzuha has held for over 700 years! She begins her plan by using Mayuka to steal Tenchi away to the Dimension of Darkness. So it begins again, Tenchi must fight to save his friends and Mayuka, daughter or not!

Tenchi Forever

Tenchi storms off into the hills after a fight with Ayeka and Ryoko, but doesn`t return. After some time, Washu helps Ayeka and Ryoko locate Tenchi, but he has aged several years, and has been seduced by a mysterious woman. To make matters worse - he can`t even see or hear them! Will they be able to rescue Tenchi? Does he even want to be rescued?

Also contains a bonus fourth disc, with the Tenchi Encyclopaedia.
Special Features:
Tenchi Muyo In Love

Trailers
Director`s Comments
Christopher Franke (Composer Interview and Bio)


Daughter Of Darkness

Original Japanese Ending
Trailers


Tenchi Forever

Trailers
Line Art Gallery

Video Tracks:
Widescreen Anamorphic 1.85:1
Widescreen Letterbox 1.78:1

Audio Tracks:
Dolby Digital 5.1 English
Dolby Digital Stereo 2.0 Japanese
Dolby Digital 5.1 Japanese
Dolby Digital Stereo 2.0 English

Subtitle Tracks:
Japanese
English
CC: English

Directed By:
Satoshi Kimura

Written By:
Marc Handler
Naoko Hasegawa

Starring:
Masami Kikuchi
Ai Orikasa
Yumi Takada
Chisa Yokoyama
Yûko Mizutani
Yuri Amano

Music From:
Kô Ôtani

Editor:
Masashi Furukawa

Executive Producer:
Tsuguhiko Kadokawa
Ryuichi Noda

Distributor:
MVM