Men In Black: Limited Edition (US)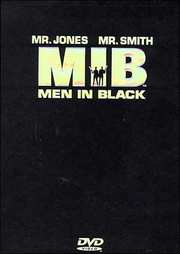 Protecting the earth from the scum of the universe
Certificate: PG-13
Running Time: 98 mins
Retail Price: $39.95
Release Date:
Content Type: Movie
Synopsis:
Agent Jay (Will Smith) and Agent Kay (Tommy Lee Jones) are turning up the heat on alien terrorists and delivering hot new technology at the same time.

Experience the galaxy`s biggest sci-fi hit with a universe of exclusive special features, including 3 scene editing workshops, technical commentary and more!
Special Features:
Interactive Menus
Scene Access

Disc One:
Visual Commentary (Starring Director Barry Sonnenfeld and Tommy Lee Jones) with On-Screen Diagrams
Limited Edition Exclusive! Technical Audio Commentary with Barry Sonnenfeld, Rick Baker & Industrial Light & Magic Team

Disc Two:
Limited Edition Exclusive! 3 Scene Editing Workshops: Become the Filmmaker by Piecing Together Various Shots From A Selected Scene, and then Re-Play Your Own Version! Compare Your Edit to the Final Cut and Listen to Director Sonnenfeld as he Describes His Own Editing Process.
Limited Edition Exclusive! Edgar Bug Fight Scene Deconstruction Using Angles
Limited Edition Exclusive! Creatures: Concept to Completion
Limited Edition Exclusive! Extended Conceptual Art and Production Photo Galleries
Character Animation Studies Using Angles
Tunnel Scene Deconstruction Using Angles
Extended & Alternate Scenes
Storyboard Comparisons
Original Featurette
All-New Documentary: Metamorphosis Of Men In Black
Music Video Starring Will Smith & Mikey
DVD-ROM and Web Links
Theatrical Trailers
Talent Files

Collectible Inserts:
Limited Edition Exclusive! Letter from Barry Sonnenfeld and 12-Page Booklet Including Production Notes and Conceptual Character Drawings
Limited Edition Exclusive! Reproduction of Conceptual Drawing Signed by Barry Sonnenfeld and Rick Baker. A Limited Number Of Posters will Include Original Signatures!

Video Tracks:
Widescreen Anamorphic 1.85:1
Pan & Scan 1.33:1

Audio Tracks:
Dolby Digital 5.1 English
Dolby Digital Surround 2.0 English
Dolby Digital Surround 2.0 French

Subtitle Tracks:
French
Chinese
English
Spanish
CC: English
Mandarin

Directed By:
Barry Sonnenfeld

Written By:
Terry Rossio
Ted Elliott
David Koepp
Ed Solomon
Lowell Cunningham

Starring:
Rip Torn
Linda Fiorentino
Will Smith
Tommy Lee Jones

Casting By:
Debra Zane
David Rubin

Soundtrack By:
Danny Elfman

Director of Photography:
Donald Peterman

Editor:
Jim Miller

Costume Designer:
Mary E. Vogt

Production Designer:
Bo Welch

Producer:
Graham Place
Walter F. Parkes
Steven R. Molen
Laurie MacDonald

Executive Producer:
Steven Spielberg

Distributor:
Columbia / Tristar