Men In Black (Limited Edition) (UK)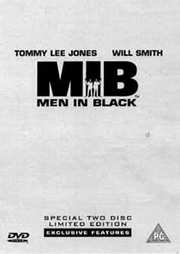 Protecting the earth from the scum of the universe
Certificate: PG
Running Time: 94 mins
Retail Price: £24.99
Release Date:
Content Type: Movie
Synopsis:
Secret agents `K` (Tommy Lee Jones) and `J` (Will Smith) work for a highly funded yet unofficial government agency which tracks civilisation-infiltrating extra-terrestrials.

K and J must prevent an alien terrorist (Vincent D`Onofrio) from assassinating two galactic ambassadors, on Earth for a conference, dooming the Earth to certain destruction.

Just another day at the office for the Men in Black.
Special Features:
Interactive Menus
Scene Access
Visual commentary with on-screen diagrams featuring Barry Sonnenfeld and Tommy Lee Jones
Creature animation studies - multi-angle
Tunnel scene deconstruction - multi-angle
Extended and alternate scenes (5 scenes)
Conceptual art, storyboard, storyboard comparisons and production photo galleries
Original featurette
All new documentary: "The Metamorphosis of Men In Black"
Music video with Will Smith and Mikey
11 Talent Files
MIB 2 Teaser Trailer
Teaser Trailer
Theatrical Trailer
Stuart Little Trailer

PLUS FOR THE LIMITED EDITION ONLY

Widescreen and full-screen versions of the film
Scene Editing Workshop - viewers can construct and manipulate selected scenes from the film. This technology has never before been included on the DVD format!
Additional Photo Gallery - Over 1000 stills images
Additional Edgar Bug Fight Deconstruction Scene
Technical Audio Commentary with Barry Sonnonfold and H.M. Team

Video Tracks:
Widescreen Anamorphic 1.85:1

Audio Tracks:
Dolby Digital 5.1 English
Dolby Digital 5.1 French
Dolby Digital 5.1 German
Dolby Digital Stereo 2.0 English

Subtitle Tracks:
French
Hebrew
Icelandic
Polish
Czech
Hindi
Swedish
Finnish
Turkish
English
German
Greek
Hungarian
Dutch
Arabic
Danish
Norwegian
Bulgarian

Directed By:
Barry Sonnenfeld

Written By:
Terry Rossio
Ted Elliott
David Koepp
Ed Solomon
Lowell Cunningham

Starring:
Rip Torn
Linda Fiorentino
Will Smith
Tommy Lee Jones

Casting By:
Debra Zane
David Rubin

Soundtrack By:
Danny Elfman

Director of Photography:
Donald Peterman

Editor:
Jim Miller

Costume Designer:
Mary E. Vogt

Production Designer:
Bo Welch

Producer:
Graham Place
Walter F. Parkes
Steven R. Molen
Laurie MacDonald

Executive Producer:
Steven Spielberg

Distributor:
Columbia / Tristar