Verdi: Aida (Ono) (UK)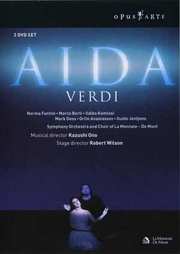 2 disc set
Certificate: none
Running Time: 0 mins
Retail Price: £29.99
Release Date:
Content Type: Musical Recording
Synopsis:
Norma Fantini, Marco Berti, Ildiko Komlosi, Mark Doss, Orlin Anastassov, Guido Jentjens
Symphony Orchestra and Choir of La Monnaie/De Munt / Kazushi Ono
Stage director Robert Wilson

Cult director Robert Wilson`s highly stylised and intensely dramatic staging brings a Zen-like tranquillity to Verdi`s great opera concerning the conflict between individual aspiration, tradition and duty. His visually calm, yet emotionally taut, direction is emphasised by outstanding performances from the cast and the Symphony Orchestra and Choir of La Monnaie/De Munt under the commanding and inspired musical direction of Kazushi Ono. Recorded live at the Royal Opera House (La Monnaie/De Munt) in Brussels, this riveting and painstakingly beautiful production, reminiscent at times of Japanese Noh theatre, offers a new and thought-provoking experience of a masterpiece. Recorded in High Definition and true surround sound.
Special Features:
Cast Gallery & Illustrated Synopsis

Related Websites:
http://www.opusarte.com/