Doom (UK)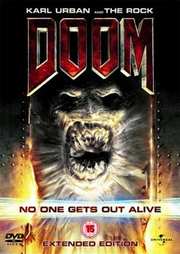 No one gets out alive
Certificate: 15
Running Time: 108 mins
Retail Price: £19.99
Release Date:
Content Type: Movie
Synopsis:
Something has gone wrong at a remote scientific research station on Mars. All research has ceased, communication has failed. It`s a Level 5 quarentine and only the Rapid Reaction Tactical Squad are allowed in or out. Their orders: nothing gets out alive.
Special Features:
Never before seen footage.

Basic Training
Rock Formation
Master Monster Makers
First Person Shooter Sequence
Doom Nation
Game On!

Directed By:
Andrzej Bartkowiak

Written By:
Wesley Strick
David Callaham

Starring:
Rosamund Pike
Karl Urban
The Rock