Simpsons, The: Season Three (UK)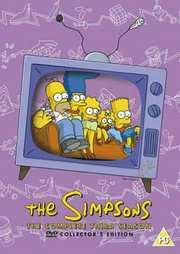 Collectors Edition four-disc boxset
Certificate: PG
Running Time: 576 mins
Retail Price: £39.99
Release Date:
Content Type: TV Series
Synopsis:
Featuring all 24 episodes from Season 3 of Matt Groening`s The Simpsons. Among the classic storylines we see Krusty try to make amends with his father who`s an Orthodox Jewish Rabbi, while elsewhere Bart gets stuck down a well, Moe steals Homer`s idea for a drink, Homer manages a country and western songtress, Sideshow Bob marries Selma, and Homer`s brother invents a machine for translating baby talk. Guest voices include Michael Jackson, Jackie Mason, Aerosmith, Sting, and Danny DeVito.
Episode titles: Stark Raving Dad, Mr. Lisa Goes To Washington, When Flanders Failed, Bart The Murderer, Homer Defined, Like Father Like Clown, Treehouse of Horror II, Lisa`s Pony, Saturdays of Thunder, Flaming Moe`s, Burns Verkaufen der Kraftwerk, I Married Marge, Radio Bart, Lisa The Greek, Homer Alone, Bart The Lover, Homer At The Bat, Separate Vocations, Dog of Death, Colonel Homer, Black Widower, The Otto Show, Bart`s Friend Falls In Love, Brother Can You Spare Two Dimes?
Special Features:
Commentary on every episode by creator Matt Groening, joined by executive producer James L. Brooks, writers, actors and directors on selected episodes. Pop-Up trivia feature. Audio outtakes from cast and guest stars. Butterfinger commercials. Bart`s Thanksgiving.

Video Tracks:
Standard 1.33:1

Audio Tracks:
Dolby Digital 5.1 English

Subtitle Tracks:
Swedish
Finnish
CC: English
Danish
Norwegian

Directed By:
Neil Affleck
Bob Anderson
Mikel B. Anderson
Wesley Archer
Carlos Baeza
Brad Bird
Kent Butterworth
Shaun Cashman
Susie Dietter
Mark Ervin
Milton Gray
Klay Hall
Mark Kirkland
Lance Kramer
Nancy Kruse
Jeff Lynch
Lauren MacMullan
Michael Marcantel
Pete Michels
Rich Moore
Steven Dean Moore
Matthew Nastuk
Dominic Polcino
Michael Polcino
Jim Reardon
Swinton O. Scott III
Chuck Sheetz
David Silverman
Alan Smart
Gregg Vanzo

Written By:
Matt Groening
James L. Brooks
Matt Groening
Sam Simon
Richard Appel
Gary Apple
Bob Bain
Jack Barth
Bill Canterbury
Michael Carrington
Donick Cary
Dan Castellaneta
David X. Cohen
Robert Cohen
Jonathan Collier
Jennifer Crittenden
Greg Daniels
Larry Doyle
Michael Feresten
Brent Forrester
John Frink
Howard Gewirtz
Ned Goldreyer
Dan Greaney
Reid Harrison
Ron Hauge
David Isaacs
Al Jean
Weinstein Josh
Ken Keeler
Jay Kogen
Bob Kushell
Deb Lacusta
Adam I. Lapidus
Ken Levine
Tim Long
Jeff Martin
Tom Martin
Ian Maxtone-Graham
Dan McGrath
George Meyer
David Mirkin
Frank Mula
Bill Oakley
Carolyn Omine
Jack Parmeter
Don Payne
Steve Pepoon
Edgar Allan Poe
Mimi Pond
Rachel Pulido
Mike Reiss
David Richardson
Jace Richdale
Brian K. Roberts
David Sacks
Neil Scovell
Nell Scovell
Brian Scully
Mike Scully
Matt Selman
Alan Smithee
David M. Stern
Jeffrey Sternin
John Swartzwelder
Julie Thacker
Steve Tompkins
Jeffrey Ventimilia
Jon Vitti
Penny Wise
Wallace Wolodarsky
Steve Young

Starring:
Dan Castellaneta
Julie Kavner
Nancy Cartwright
Yeardley Smith
Hank Azaria
Harry Shearer
Tress MacNeille
Pamela Hayden
Marcia Wallace
Russi Taylor

Casting By:
Bonita Pietila

Soundtrack By:
Alf Clausen
Danny Elfman
Richard Gibbs
Arthur B. Rubinstein
John Swartzwelder

Editor:
Don Barrozo
Ric Eisman
Mark McJimsey
Brian K. Roberts

Producer:
Bonita Pietila
Max Pross
David Sachs
Bill Schultz
Mike Scully
David Silverman
Denise Sirkot
Jon Vitti
Wallace Wolodarsky
Larina Adamson
Sherry Argaman
Lolee Aries
Joseph A. Boucher
David X. Cohen
Jonathan Collier
Greg Daniels
Larry Doyle
Brent Forrester
John Frink
Tom Gammill
Paul Germain
Matt Groening
Ken Keeler
Harold Kimmel
Jay Kogen
Colin A.B.V. Lewis
Tim Long
Jeff Martin
Tom Martin
J. Michael Mendel
Frank Mula
Carolyn Omine
Don Payne
Margot Pipkin
Richard Raynis
David Richardson
Phil Roman
Richard Sakai
Brian Scully
Matt Selman
John Swartzwelder
Ken Tsumura
Michael Wolf

Executive Producer:
Mike Reiss
Jace Richdale
Steve Tompkins
Richard Appel
James L. Brooks
Gabor Csupo
Dan Greaney
John W. Hyde
Al Jean
Weinstein Josh
Ian Maxtone-Graham
George Meyer
David Mirkin
Bill Oakley
Sam Simon

Distributor:
Twentieth Century Fox