American Gothic (UK)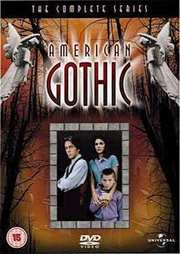 There`s Someone at the door... There`s Someone at the door!
Certificate: 15
Running Time: 954 mins
Retail Price: £34.99
Release Date:
Content Type: TV Series
Synopsis:
In some ways reminiscent of David Lynch`s seminal tv series `TWIN PEAKS`, this eerie drama series concentrated on the dark - and often disturbing - truths hidden beneath the surface of a small American town.

Set in Trinity, South Carolina, `AMERICAN GOTHIC` succeeded in its one season run to intrigue viewers with its mysterious storylines and macabre undertones.

Gary Cole heads up the cast as Sheriff Lucas Buck, Trinity`s knight in shining armor. Much of the plot revolves around Buck`s attempts to get closer to his illegitimate young son, Caleb Temple (Lucas Black), who has always been told that his father was a man named Gage. Inspiring the curiosity of the local doctor and other neighbours, Caleb and the sheriff become the talk of the town.

The sleepy community get even more stirred up when Caleb`s cousin Gail comes to town with the goal of protecting the boy. And, to complicate things, someone else also has Caleb`s best interests in mind: his dead sister Merlyn, now an angel.

`Pilot`, `A Tree Grows in Trinity`, `Eye of the Beholder`, `Damned If You Don`t`, `Dead to the World`, `Meet the Beetles`, `Strong Arm of the Law`, `Rebirth`, `Resurrector`, `Inhumanitas`, `The Plague Sower`, `Doctor Death Takes a Holiday`, `The Beast Within`, `To Hell and Back`, `Learning to Crawl`, `Triangle`, `The Buck Stops Here`,`Requiem`, `Potato Boy`, `Ring of Fire`, `Echo of Your Last Goodbye` and `Strangler`.
Special Features:
Deleted/extended scenes.

Video Tracks:
Standard 1.33:1

Audio Tracks:
Dolby Digital Stereo 2.0 English

Starring:
Sarah Paulson
Brenda Bakke
Jake Weber
Paige Turco
Gary Cole