Crash (2004) (UK)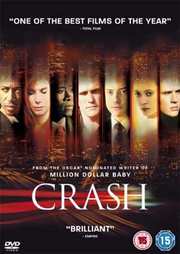 You think you know who you are. You have no idea
Certificate: 15
Running Time: 112 mins
Retail Price: £19.99
Release Date:
Content Type: Movie
Synopsis:
A multiple-car crash investigation headed by Detective Graham Waters (Don Cheadle), forces an in-depth examination of a series of dramatic events involving a multicultural cross section of LA residents from the previous twenty-four hours. The chain of events is triggered when the district attorney, Richard Cabot (Brendan Fraser) and his wife Jean (Sandra Bullock), have their car hijacked at gunpoint by two young black men, Peter (Larenz Tate) and Anthony (Chris `Ludacris` Bridges). In another incident, veteran LAPD cop (Matt Dillon) takes out his racist frustrations in a horrific abuse of power on an affluent and innocent black couple (Thandie Newton) in full view of his young and disapproving partner (Ryan Phillippe).
Elsewhere, a distrusting Iranian shop-owner engages in a tense argument with the Mexican locksmith who has just given him some friendly advice about his security arrangements. As the night wears on these chance encounters prove their drastic significance for everyone involved. Each of them must face up to the consequences that their actions have had for others, but also to the surprising revelations they discover about themselves and their prejudices.

You can view the trailer <a target="_blank" href="http://www.greenroom-press.com/reg_user/view_qt.php?id=1138">here</a>.
Special Features:
Commentary by Paul Haggis, Don Cheadle and Bobby Moresco. Making Of Featurette. Introduction by Director Paul Haggis. Bonus music video. Theatrical trailer.

Video Tracks:
Widescreen Anamorphic 2.35:1

Audio Tracks:
Dolby Digital 5.1 English

Directed By:
Paul Haggis

Written By:
Robert Moresco
Paul Haggis

Starring:
Matt Dillon
Tony Danza
Sean Cory
Art Chudabala
Don Cheadle
Sandra Bullock
Dato Bakhtadze
Karina Arroyave
Ryan Phillippe