Cleopatra (US)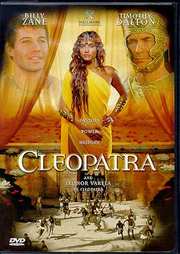 Passion, power, history
Certificate: none
Running Time: 177 mins
Retail Price: $19.98
Release Date:
Content Type: Movie
Synopsis:
For over two-thousand years, the legend of the beautiful Queen of the Nile has stirred the imagination. Ascending to the throne at a mere seventeen years of age, Cleopatra (Leonor Varela) ruled as Egypt`s last Pharaoh for twenty-two years. Easily winning the heart of Roman Emperor Julius Caesar (Timothy Dalton), they embark on a two-month voyage down the Nile and quickly become devoted to each other. She bears him a child whom they call Caesarion.

Keeping a close eye on the relationship, the Roman Senators conspire to assassinate Caesar. His death devastates Cleopatra. In her grief, she turns to Marc Antony (Billy Zane), a Roman she can trust. Their alliance angers Rome even more and war is declared on Egypt. Cleopatra and Marc Antony`s fate becomes sealed in each other`s arms as the Roman army closes in.

Beautifully directed and stunningly photographed, CLEOPATRA reigns as one of the greatest love stories in history.
Special Features:
Interactive Menus
Scene Access
Trailer
Cleopatra`s Hidden Treasures Game
Cast & Crew Information
Production Notes

Video Tracks:
Standard 1.33:1

Audio Tracks:
Dolby Digital Surround 2.0 English

Directed By:
Franc Roddam

Written By:
Anton Diether
Stephen Harrigan
Margaret George

Starring:
Nadim Sawalha
Art Malik
John Bowe
Rupert Graves
Billy Zane
Timothy Dalton
Leonor Varela

Casting By:
Mike Fenton
Allison Cowitt
Carolyn Bartlett

Soundtrack By:
Trevor Jones

Director of Photography:
David Connell

Editor:
Peter Coulson

Costume Designer:
Enrico Sabbatini

Production Designer:
Martin Hitchcock

Producer:
Dyson Lovell

Executive Producer:
Robert Halmi Sr.
Robert Halmi Jr.

Distributor:
Artisan Entertainment