Escape From New York (Special Edition) (UK)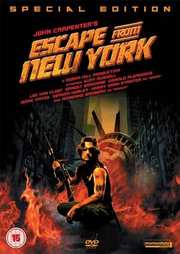 New York city is now a maximum security prison. Breaking out is impossible. Breaking in is insane
Certificate: 15
Running Time: 99 mins
Retail Price: £19.99
Release Date:
Content Type: Movie
Synopsis:
The future. Manhattan Island has become a maximum security prison for 3,000,000 criminals... When the American President`s plane is hijacked and crashes there, the President (Donald Pleasence) is taken hostage by gangland warlord The Duke of New York (Isaac Hayes).

Sent to the rescue is Snake Plissken (Kurt Russell), former war hero now convicted criminal. To ensure the safe return of the President, Police Commissioner Bob Hauk (Lee Van Cleef), has had miniature explosive devices implanted in Plissken`s neck - if he gets the President out in 24 hours he gets a pardon, if not the bombs will detonate and rupture his major arteries! Co-starring Ernest Borgnine, Harry Dean Stanton, Season Hubley and Adrienne Barbeau.
Special Features:
Re-Mastered Digital Transfer; Audio commentaries from Director John Carpenter, Star Kurt Russell, Producer Debra Hill and Production Designer Joe Alves; `Return To Escape From New York` featurette; Deleted scene: original opening `Bank Robbery` sequence; Photo gallery; Trailers.

Directed By:
John Carpenter

Written By:
Nick Castle
John Carpenter

Starring:
Isaac Hayes
Donald Pleasence
Ernest Borgnine
Lee Van Cleef
Kurt Russell