Bridget Jones`s Diary / The Edge Of Reason (Box Set) (UK)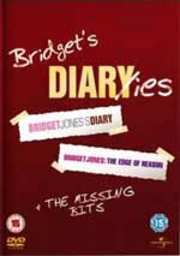 Uncensored. Uninhibited. Unmarried
Certificate: 15
Running Time: 201 mins
Retail Price: £19.99
Release Date:
Content Type: Movie
Synopsis:
Bridget Jones` Diary Diet-obsessed, chain-smoking, chardonnay-swilling, thirty-something Bridget Jones decides to take her accident-prone life by the scruff of its neck and make something of it. To kick off her New Year`s resolutions in the best possible style, she starts to keep a diary, charting her progression from singleton duckling to, hopefully, smug-married swan. But things don`t always go according to plan. For a start, there`s the standoffish Mark Darcy - devastatingly handsome, successful, and the one person who`s always around just as Bridget makes another blunder. Then, there`s the terminally sexy Daniel Cleaver - Bridget`s boss and e-flirtation partner, who has plenty of secret tricks… and secrets.
Bridget Jones - The Edge of Reason Having finally found the perfect man in gorgeous lawyer Mark Darcy (Colin Firth), 30-something ex-singleton Bridget Jones (Renée Zellweger) is now faced with the even bigger challenge of... keeping him! When he rself-doubts return and her womanising ex-lover Daniel Cleaver (Hugh Grant) reappears uninvited, Bridget gets entangled in a comic mix of bad advice, miscommunications and total disasters that could only happen to her. From embarrassing situations to romantic misunderstanding, Bridget Jones: The Edge of Reason will have you crying with laughter. A feel good movie to watch again and again and again and again and again.

You can view the trailer <a target="_blank" href="http://www.nmm-trailerpark-hst.com/trailerRef.php?Traname=http://www.nmm-trailerpark-hst.com/Bridget_Jones_snif.html">here</a>.
Special Features:
Bonus Disc: The Missing Bits Bridget Jones: A Cultural Icon? Deleted scenes. Bridget`s Big Night. World Tour of the Premieres. Bridget`s Interactive Map of London.

Video Tracks:
Widescreen Anamorphic 2.35:1

Audio Tracks:
Dolby Digital 5.1 English

Subtitle Tracks:
CC: English

Directed By:
Sharon Maguire

Written By:
Helen Fielding
Andrew Davies
Richard Curtis

Starring:
Renée Zellweger
Gemma Jones
Celia Imrie
James Faulkner
Jim Broadbent
Colin Firth
Hugh Grant

Casting By:
Michelle Guish

Soundtrack By:
Patrick Doyle

Director of Photography:
Stuart Dryburgh

Editor:
Martin Walsh

Costume Designer:
Rachael Fleming

Production Designer:
Gemma Jackson

Producer:
Tim Bevan
Jonathan Cavendish
Liza Chasin
Eric Fellner
Debra Hayward
Peter McAleese

Executive Producer:
Helen Fielding