Gantz: Vol. 1 (UK)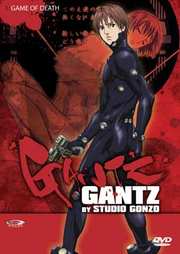 Based on Hiroya Oku`s comic, originally serialised in the weekly magazine
Certificate: 15
Running Time: 0 mins
Retail Price: £19.99
Release Date:
Content Type: TV Series
Synopsis:
Young Jump, Gantz is the controversial anime series that, even in its heavily censored TV broadcast version, shocked Japan with its splatter-punk violence, explicit profanity, stark eroticism and unerring tendency to challenge the limits of acceptability for a primetime animated TV show. Presented in its full director`s version, uncut and uncensored.
While waiting to catch a subway train home from school, 16-year-old Kei Kurono sees an old childhood friend, Masaru Kato, on the railway platform. Suddenly, a drunken homeless man falls on to the tracks. Despite the number of witnesses who could help, only Kato goes to his aid. Recognising his former friend, Kato calls for Kurono`s assistance in rescuing the man. Together they manage to get the man to safety, but in doing so they are hit by an incoming express train and killed instantly. Seconds later, with no idea of how it has happened, Kurono and Kato find themselves in an unfurnished apartment in Tokyo in the company of several strangers, a dog and a large, black spherical object they are told is the Gantz...
Special Features:
Interviews with director Ichiroh Itano and Daisuke Namikawa (the voice of Kei Kurono). Clean opening, clean closing. Trailers.

Audio Tracks:
Dolby Digital 5.1 English
Dolby Digital Stereo 2.0 Japanese

Subtitle Tracks:
English