Gladiator (Extended Special Edition) (UK)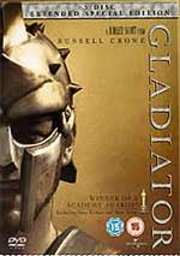 A hero will rise
Certificate: 15
Running Time: 164 mins
Retail Price: £19.99
Release Date:
Content Type: Movie
Synopsis:
Winner of 5 Academy Awards including Best Picture and Best Actor, Gladiator is here released as an Extended Special Edition, featuring 17 minutes of additional footage not shown in cinemas. Personally overseen by director Ridley Scott, this 3 disc edition, with new bonus materials, delivers the most intense Gladiator experience ever!

<a href=`#` onclick="urlname=document.URL; urlname=urlname.replace(`#`,``); openUrl=`http://www.nmm-trailerpark-hst.com/trailerRef.php?Traname=http://www.nmm-trailerpark-hst.com/Gladiator_-_scenes_snif.html&trID=1099&refurl=`+urlname;window.open(openUrl,`preview`,`width=238,height=267,status=yes`)">Click for an exclusive clip!</a>
Special Features:
Disc One: Introduction by Ridley Scott. Commentary by Russell Crowe and Ridley Scott. Are You Not Entertained?
Disc Two: Tale of the Scribes: Story Development. The Tools of War: Weapons. Attire of the Realm: Costume Design. The Heat of Battle: Production Journals. The Glory of Rome: Visual Effects. Shadows and Dust: Resurrecting Proximo. Echoes in Eternity: Release and Impact.
Disc Three Production Design Primer: Arthur Max. Production Design Gallery. Storyboard Demonstration: Sylvain Despretz. Storyboard Gallery. Storyboard-To-Film Comparisons. Ridleygrams. Costume Design Gallery. Photo Galleries. Abandoned Sequences & Deleted Scenes. VFX Explorations: Germania & Rome. Trailer & TV Spots.

Video Tracks:
Widescreen Anamorphic 2.35:1

Audio Tracks:
Dolby Digital 5.1 English

Subtitle Tracks:
CC: English

Directed By:
Ridley Scott

Written By:
David H. Franzoni
John Logan
William Nicholson

Starring:
Russell Crowe
Joaquin Phoenix
Connie Nielsen
Oliver Reed
Richard Harris
Derek Jacobi
Djimon Hounsou
David Schofield

Casting By:
Louis DiGiaimo

Soundtrack By:
Klaus Badelt
Lisa Gerrard
Hans Zimmer

Director of Photography:
John Mathieson

Editor:
Pietro Scalia

Costume Designer:
Janty Yates

Production Designer:
Arthur Max

Producer:
David H. Franzoni
Branko Lustig
Terry Needham
Douglas Wick

Executive Producer:
Laurie MacDonald
Walter F. Parkes
Steven Spielberg