Review of Sideways
Introduction
The latest sweet and sour meditative road movie dramedy from `About Schmidt`s Alexander Payne follows Miles (Giamatti), a hopelessly flummoxed teacher and wannabe novelist, drawn, with a suitably forlorn sense of duty into taking his jocular old college roommate, Jack (Hayden Church) on a tour of California`s famed vineyards on the eve of the latter`s wedding. Drunken excess, existential despair, romantic entanglements and s***-loads of vino (but definitely not Merlot) ensue.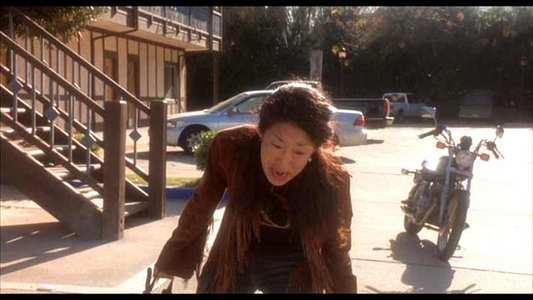 Video
Phedon Parmichael`s early `70s-style soft-focus glaze comes off well here, giving the film an appropriately listless saturated haze and capturing the story`s dry, lazy Californian heat.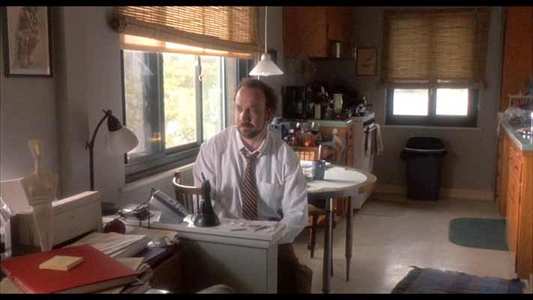 Audio
Occasionally beautifully lilting, occasionally highly irritating jazz-lite musack score from Rolfe Kent that at times succeeds in making you feel like you`re cruising, hung-over, with the top-down through a Californian summer, and at other times makes you feel like you`re stuck, sweating with 14 other sorry souls in the lift at John Lewis. Serviceable, unflashy 5.1.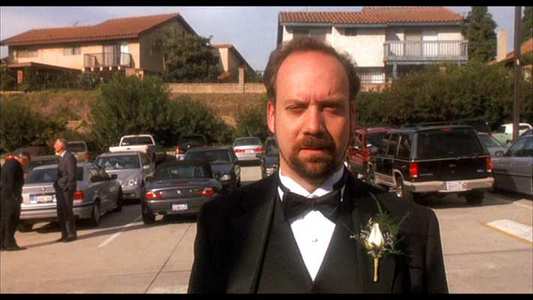 Features
A light, convivial commentary with the two-leads isn`t too mutually masturbatory to be totally unlistenable, but isn`t all that interesting, or funny, either. Special, neither, is the making of, with is so standardised you wonder if they added in clips from the film to remind you which one in Fox`s back-catalogue it`s about. Far better are the numerous deleted scenes, complete, ala `About Schmidt` with lucid explanatory notes from Payne.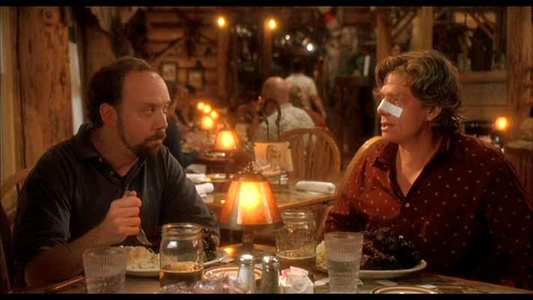 Conclusion
Acutely funny and desperately depressing. As with his last tale of gloaming angst and road-trip induced ennui, `About Schmidt`, Payne mixes achingly genuine melancholia with piercing humor so po-faced that it deepens, rather than alleviates, the sobering pot-holed existences of the characters. Here however, the overall effect is more insular, less profound and sadder in a more casual, less enlightening fashion. That said, for those who can stomach the bleakness of all these hopelessly deluded lives stumbling inexorably towards inertia, `Sideways` has more breezily articulate pleasures than just about every so-called Indie sleeper put together, and manages to deal them out with an emotional honesty and lightness of touch that can`t fail to make an impression.
The cast is perfect: Giamatti seems to have been born to bring every one of Miles` rumpled, dazed, bitterly suppressed neuroses to agonising life, the infinite sadness of the character seeming to sink into his soft, swollen eyes. Thomas Hayden Church so inhabits facile, air-headed Valley-jock Jack that you start to believe that he genuinely has no consciousness whatsoever, a realisation that gives his supposedly cathartic "confession" a subversive new spin. The biggest revelation however, must be Virginia Madsen; rarely seen on the big screen since `Candyman`, she underplays with exquisite tenderness the bruised but open soul of Maya. Her monologue, where she describes the roots of her passionate oneophilia, is undoubtedly the highlight, and key moment of the film: with perfect delivery, the subtext sees straight through Miles` sorry predicament, and we wonder for a moment that she does too.
In a way, `Sideways` is really just an overly acclaimed xerox of `About Schmidt`, both films follow lonely, inwardly baffled men, both trapped in their self-made prisons of lies and misguided desires, unable, maybe even unwilling, to escape. `Sideways` is effortless class, of course, but you may need a cold shower, or both barrels of a shot-gun, after seeing it.