Predator 2 (UK)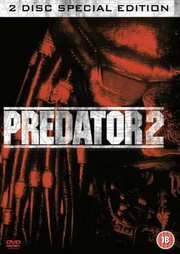 Silent. Invisible. Invincible. He`s in town with a few days to kill
Certificate: 18
Running Time: 103 mins
Retail Price: £22.99
Release Date:
Content Type: Movie
Synopsis:
This sequel to Predator finds the the police force of 1997 Los Angeles (including hard bitten cop Danny Glover) losing the battle against the drug lords and the gangs of thugs who control the streets. Suddenly, the killers are the victims of a dreadlocked alien being...
Special Features:
Disc One: Commentary by director Stephen Hopkins. Commentary by writers Jim Thomas and John Thomas.
Disc Two: Three `Evolutions` Segments. Six `Weapons Of Choice` Clips. Four featurettes: Hunter And The Hunted, The Predator Goes To Town, International Making-Of, Creating The Ultimate Hunter. Two Extended `Hard Core` Special Reports. Stills gallery.

Video Tracks:
Widescreen Anamorphic 1.85:1

Audio Tracks:
Dolby Digital 5.1 English
DTS 5.1 English

Subtitle Tracks:
CC: English

Directed By:
Stephen Hopkins

Written By:
Jim Thomas
John Thomas

Starring:
Kevin Peter Hall
Danny Glover
Gary Busey
Rubén Blades
Maria Conchita Alonso
Bill Paxton

Casting By:
Jackie Burch
Ferne Cassel

Soundtrack By:
Alan Silvestri

Director of Photography:
Peter Levy

Editor:
Mark Goldblatt
Bert Lovitt

Costume Designer:
Marilyn Vance

Production Designer:
Lawrence G. Paull

Producer:
Terry Carr
John Davis
Lawrence Gordon
Tom Joyner
Joel Silver
Suzanne Todd

Executive Producer:
Lloyd Levin
Michael Levy

Distributor:
Twentieth Century Fox