Spaceballs (Special Edition) (UK)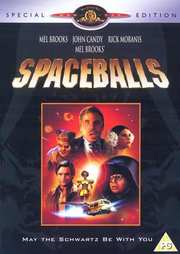 "Screamingly funny!" - Los Angeles Times
Certificate: PG
Running Time: 92 mins
Retail Price: £19.99
Release Date:
Content Type: Movie
Synopsis:
The Farce will be with you in this outrageously hilarious send-up of epic sci-fi movies, created by comic genius Mel Brooks. Boasting a cast of cosmic crazies, it`s a four-star comedy sensation that scores eight trillion on the laugh meter! Princess Vespa (Daphne Zun****), whose hairstyle surely ranks as one of the universe`s oldest creations, is kidnapped by the evil Dark Helmet (Rick Moranis). But fear not! Lone Star (Bill Pullman) and his half man, half dog sidekick Barf (John Candy), blast into action in their space Winnebago, struggling against time (and their own limited intelligence) to rescue the Princess.
Along the way they`ll confront the gooey Pizza the Hutt, a sassy robot named Dot Matrix, and a little creature called Yogurt who possesses the mystical power of the Swartz. The gags fly faster than laserblasts as the fearless and clueless space heroes wage interstellar warfare for life, liberty and the pursuit of massive merchandising opportunities. Lampooning everything from Star Wars and Alien to Planet of the Apes, this hysterically funny space oddity will send you into hyperspace with fits of laughter!
Special Features:
Disc One: Audio commentary with Mel Brooks.
Disc Two: Spaceballs documentary. `John Candy: Comic Spirit` documentary. `Mel Brooks` featurette. Storyboard to film comparison. Film flubs. Spacequotes. Photo galleries. 3 theatrical trailers.

Video Tracks:
Widescreen Anamorphic 1.85:1

Audio Tracks:
Dolby Digital 5.1 English
Dolby Digital 5.1 French
Dolby Digital 5.1 Italian
Dolby Digital 5.1 Spanish
Dolby Digital Mono Hungarian
Dolby Digital 5.1 German

Subtitle Tracks:
French
CC: German
Italian
Swedish
Finnish
Spanish
CC: English
Greek
Croatian
Hungarian
Dutch
Danish
Norwegian
Slovenian

Directed By:
Mel Brooks

Written By:
Mel Brooks
Ronny Graham
Thomas Meehan

Starring:
John Candy
Mel Brooks
Rick Moranis
Bill Pullman
Daphne Zun****
Dick Van Patten
Joan Rivers
John Hurt

Casting By:
David Rubin
Bill Shepard
Lynn Stalmaster

Soundtrack By:
Dick Bauerle
Mel Brooks
John Morris

Director of Photography:
Nick McLean

Editor:
Conrad Buff IV

Costume Designer:
Donfeld

Production Designer:
Terence Marsh

Producer:
Mel Brooks
Ezra Swerdlow

Distributor:
Metro Goldwyn Mayer