I Didn`t Know You Cared: The Complete First Series (UK)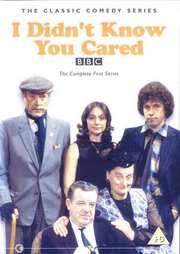 From the books of Peter Tinniswood
Certificate: PG
Running Time: 196 mins
Retail Price: £19.99
Release Date:
Content Type: TV Series
Synopsis:
From the books of Peter Tinniswood comes one of television`s greatest comedy families, `The Brandons`. There`s miserable pessimist Uncle Mort (Robin Bailey), his sharp-tongued sister Annie (Liz Smith) who is constantly arguing with husband Les (John Comer), their laid-back son Carter (Stephen Rea) and his not so laid-back fiancé Pat (Anita Carey), and finally old Uncle Stavely (Bert Palmer), who carries his friend`s ashes around his neck in a box and only enters the constant bickering with a cry of "I `eard that! Pardon?"
Pat is desperately trying to turn reluctant Carter into a young executive and march him up the aisle, but she`s not being helped by the men of the house who feel it their duty to educate him on the perils of marriage...

Episodes:- `Cause For Celebration`, `A Knitter In The Family`, `The Old Tin Trunk`, `After The Ball Was Over`, `Aye... Well... Mmm...`, `Large Or Small, Big Or Tall` and `The Axe And Cleaver`.
Special Features:


Video Tracks:
Standard 1.33:1

Audio Tracks:
Dolby Digital Stereo 2.0 English

Subtitle Tracks:
CC: English

Written By:
Peter Tinniswood

Starring:
Anita Carey
Stephen Rea
Liz Smith
John Comer
Robin Bailey