King Arthur: Director`s Cut (UK)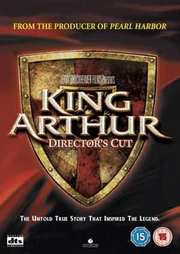 Antoine Fuqua`s gritty interpretation of the Arthurian legend
Certificate: 15
Running Time: 143 mins
Retail Price: £19.99
Release Date:
Content Type: Movie
Synopsis:
The full-blooded version of Antoine Fuqua`s gritty interpretation of the Arthurian legend with 17 minutes of footage not seen at the cinema!

Britain, the 6th century: Artorious Castus (Owen), better known among his people as Arthur, is the leader of a select group of Sarmatian knights who, after impressing the occupying Roman forces with their fighting skills and righteous honour, have been incorporated into the elite ranks of the Roman army.

However, the occupying forces are withdrawing from Britain to protect Rome from the onslaught of barbarians on the continent and with freedom on the horizon after 15 years of bloody service, Arthur and his knights must protect the liberty of the country from invading Saxons...
Special Features:
Alternative ending
`Blood On The Land - The Forging Of King Arthur`: a `Making Of` documentary
National Treasure sneak peek

Video Tracks:
Widescreen Anamorphic 2.35:1

Audio Tracks:
Dolby Digital 5.1 English

Subtitle Tracks:
English
CC: English

Directed By:
Antoine Fuqua

Written By:
David Franzoni

Starring:
Keira Knightley
Ray Stevenson
Ray Winstone
Hugh Dancy
Joel Edgerton
Mads Mikkelsen
Ioan Gruffudd
Clive Owen