Meet the Parents (Widescreen Special Edition) (US)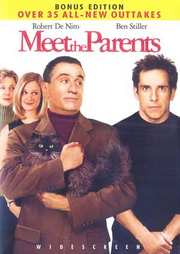 First comes love. Then comes the interrogation
Certificate: PG-13
Running Time: 108 mins
Retail Price: $29.99
Release Date:
Content Type: Movie
Synopsis:
Greg Focker (Ben Stiller) is head over heels in love with his girlfriend Pam (Teri Polo), and is ready to pop the big question. When his attempt to propose is thwarted by a phone call with the news that Pam`s younger sister is getting married, Greg realizes that the key to Pam`s hand in marriage lies with her formidable father, Jack Byrnes (Robert De Niro).

A trip to New York for her sister`s wedding seems just the right occasion for Greg to ask Pam to be his wife. But everything that could possibly go wrong, does.

Upon his arrival at the family`s picturesque, Norman Rockwell-like home, Greg is greeted by what appears to be the picture-perfect family: a loving husband and wife with a doting son and two daughters and a beloved cat. But for a guy who usually resorts to dry wit in stressful situations, Greg is suddenly shooting blanks with Jack, a retired horticulturist...and rather imposing figure. No one is good enough for Jack`s first-born daughter, and the fact that Greg is a cat-hating male nurse with a vulgar-sounding last name is not helping things at all.

While Greg bends over backwards to try and make a good impression, his weekend begins with lost luggage at the airport and turns into a hilarious series of one disaster after another.
Special Features:
De Niro Unplugged - deleted scene of Robert DeNiro singing "Love is in the Air" at the wedding
Preparing To Meet The Fockers - The cast reveals the inside story of Greg and Pam`s disaster-prone romance and the hilarious events leading up to the even more outrageous sequel
Silly Cat Tricks - the film`s animal wrangler reveals how she trained Jinx the cat for his amazing on-screen antics and shows viewers how to teach their own felines some wild and crazy tricks
The Truth About Lying - A polygraph expert reveals the eye-opening truth about detecting deception

Video Tracks:
Widescreen Anamorphic 1.85:1

Audio Tracks:
Dolby Digital 5.1 English
Dolby Digital 5.1 French
DTS 5.1 English

Subtitle Tracks:
CC: English

Directed By:
Jay Roach

Written By:
Greg Glienna
Mary Ruth Clarke
James Herzfeld
John Hamburg

Starring:
Robert De Niro
Ben Stiller
Teri Polo
Blythe Danner
Nicole DeHuff

Casting By:
Ellen Chenoweth

Soundtrack By:
Randy Newman

Director of Photography:
Peter James

Editor:
Jon Poll

Costume Designer:
Daniel Orlandi

Production Designer:
Rusty Smith

Producer:
Robert De Niro
Greg Glienna
Emo Philips
Jay Roach
Jane Rosenthal
Amy Sayre
Nancy Tenenbaum
Jim Vincent
Shauna Weinberg

Executive Producer:
Steven Spielberg