Memento (Special Edition Three Disc Set) (UK)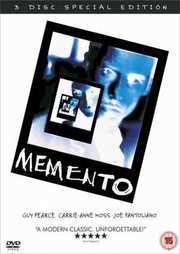 Some memories are best forgotten
Certificate: 15
Running Time: 109 mins
Retail Price: £24.99
Release Date:
Content Type: Movie
Synopsis:
From director Christopher Nolan, a unique and intriguing thriller that begins with the ultimate act of revenge and backtracks through time to reveal the shocking and provocative reasons behind it. Leonard Shelby (Guy Pearce) remembers everything up to the night his wife was brutally raped and murdered. But since that tragedy, he has suffered from short-term memory loss and cannot recall any event, the places he has just visited or anyone he has met just minutes before.
Determined to find out why his wife was killed, the only way he can store evidence is on scraps of paper, by taking Polaroid photos and tattooing vital clues on his body. Throughout his investigation, he appears to have the help of both bartender Natalie (Carrie-Anne Moss), who may have her own secret agenda and police officer Teddy (Joe Pantoliano) whose friendship is always suspect. As Shelby`s fractured memory tries to piece together a chilling jigsaw of deceit and betrayal in reverse, breathtaking twists and surprising turns rapidly occur in the most challenging, original and critically acclaimed thriller in years.
Special Features:
Disc One: Commentary with 3 alternative endings (109 minutes).
Disc Two: Interview with Christopher Nolan (24 mins). Interview with Guy Pearce (13 mins). Anatomy of a Scene (26 mins). Biographies. Reverse version of feature Easter egg.
Disc Three: Shooting Script split screen (109 mins). Memento Mori (34 mins). Galleries. Website. International trailer.

Video Tracks:
Widescreen Anamorphic 2.35:1

Audio Tracks:
Dolby Digital 5.1 English

Subtitle Tracks:
English

Directed By:
Christopher Nolan

Written By:
Christopher Nolan
Jonathan Nolan

Starring:
Guy Pearce
Carrie-Anne Moss
Joe Pantoliano
Mark Boone Junior
Stephen Tobolowsky
Jorja Fox

Casting By:
John Papsidera

Soundtrack By:
David Julyan

Director of Photography:
Wally Pfister

Editor:
Dody Dorn

Costume Designer:
Cindy Evans

Production Designer:
Patti Podesta

Producer:
Elaine Dysinger
Emma Thomas
Jennifer Todd
Suzanne Todd

Executive Producer:
Christopher Ball
Aaron Ryder
William Tyrer

Distributor:
Pathe