Fog, The (Special Edition) (UK)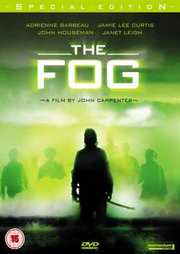 What you can`t see won`t hurt you... it`ll kill you!
Certificate: 15
Running Time: 86 mins
Retail Price: £19.99
Release Date:
Content Type: Movie
Synopsis:
When the fog rolls in the terror begins! This moody and "crisply chilling" (Newsweek) horror classic from master of terror John Carpenter (The Thing) and co-writer Debra Hill (Escape from L.A.) stars Adrienne Barbeau (Swamp Thing), Jamie Lee Curtis (Halloween), Oscar® winner John Houseman (Rollerball) and Oscar® nominee Janet Leigh (Psycho). Get lost in the fog "it will frighten the daylights" (The Hollywood Reporter) out of you!

The sleepy seaside village of Antonio Bay is about to learn the true meaning of the word "vengeance." For this seemingly perfect town masks a guilty secret, a past steeped in greed and murder. Exactly 100 years ago, a ship was horribly wrecked under mysterious circumstances in a thick, eerie fog. Now, shrouded in darkness, the long dead mariners have returned from their watery grave to exact a bloody revenge. Can this waking nightmare be stopped, or will the fog keep rolling in to kill and kill again?
Special Features:
Audio commentary by director John Carpenter and producer Debra Hill. Documentary `Tales From The Mist: Inside The Fog`. Original 1980 documentary: `Fear On Film: Inside The Fog`. Storyboard to film comparison. Outtakes. Photo gallery. Trailer.

Directed By:
John Carpenter

Written By:
John Carpenter
Debra Hill

Starring:
Adrienne Barbeau
Jamie Lee Curtis
Janet Leigh
John Houseman
Tom Atkins

Soundtrack By:
John Carpenter

Director of Photography:
Dean Cundey

Editor:
Charles Bornstein
Tommy Lee Wallace

Costume Designer:
Stephen Loomis
Bill Whittens

Production Designer:
Tommy Lee Wallace

Producer:
Barry Bernardi
Pegi Brotman
Debra Hill

Executive Producer:
Charles B. Bloch

Distributor:
Momentum Pictures