Ronin (Special Edition) (UK)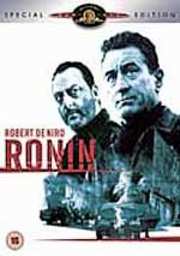 Loyalty is bought, betrayal is a way of life...
Certificate: 15
Running Time: 120 mins
Retail Price: £19.99
Release Date:
Content Type: Movie
Synopsis:
In a world where loyalty is earned and betrayal is a way of life, a new deadlier terrorist threat has emerged - the freelance killer. The Cold War may be over but at the forefront of the new world is a group of covert mercenaries whose skills in surveillance, reconnaissance and attack are for sale to the highest bidder. Five of these operatives, known as "Ronin", are assembled in Paris by a mysterious client for a dangerous mission: steal a top-secret briefcase.
What seems a straight-forward assignment soon becomes a deadly pursuit as other underworld organisations vie for the same prize. Betrayer becomes betrayed as the film reaches its shattering climax. Featuring some of the most exciting, stomach-churning car chases ever committed to film, Ronin is a tough, uncompromising thriller that will leave you breathless. Literally.
Special Features:
Audio commentary with John Frankenheimer. `Filming in the Fast Lane` making of. `In the Cutting Room with Tony Gibbs` featurette. `Through the Lens` - interview with director of photography Robert Fraisse. `The Driving of Ronin` featurette. `Natasha McElhone: An Actor`s Process` featurette. `Composing the Ronin Score` featurette. Alternate ending. Trailer.

Video Tracks:
Widescreen Anamorphic 2.35:1

Audio Tracks:
Dolby Digital 5.1 English
DTS 5.1 English

Subtitle Tracks:
English
CC: English

Directed By:
John Frankenheimer

Written By:
J. D. Zeik
Richard Weisz

Starring:
Robert De Niro
Jean Reno
Natascha McElhone
Stellan Skarsgard
Sean Bean
Jonathan Pryce

Music From:
Elia Cmiral

Director of Photography:
Robert Fraisse

Editor:
Tony Gibbs

Production Designer:
Michael Z. Hanan

Producer:
Frank Mancuso Jr

Executive Producer:
Paul Kelmenson

Distributor:
Metro Goldwyn Mayer