Tune In Tomorrow (UK)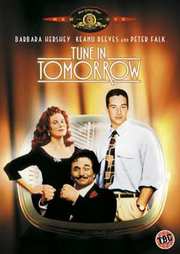 Peter Falk is a brilliant but eccentric scriptwriter hired by radio
Certificate: 15
Running Time: 105 mins
Retail Price: £12.99
Release Date:
Content Type: Movie
Synopsis:
Pedro Carmichael (Peter Falk) a brilliant but eccentric scriptwriter hired by radio station WXBU, not only turns the station`s lacklustre, rating starved soap opera into a mega hit, but he also creates chaos, consternation and considerable magic in the lives of all those around him. At WXBU, 21 year old aspiring Martin Loader (Keanu Reeves) unwittingly offers Pedro wonderous possibilities. Martin is in love with his 35 year old, sexy, twice divorced aunt by marriage Julia (Barbara Hershey). Pedro genuinely wants to help the couple. However, he`s also creating "art". And in bringing the couple closer together he also drives them apart by creating a family scandal after reproducing their very word and emotion to the radio audience via his soap opera creations which come to life in very exotic ways.
Special Features:


Video Tracks:
Widescreen Anamorphic 1.85:1

Audio Tracks:
Dolby Digital Surround 2.0 English
Dolby Digital Surround 2.0 German
Dolby Digital Mono Spanish
Dolby Digital Surround 2.0 French
Dolby Digital Surround 2.0 Polish

Subtitle Tracks:
French
Swedish
Finnish
Romanian
CC: English
Greek
Dutch

Directed By:
Jon Amiel

Written By:
William Boyd
Mario Vargas Llosa

Starring:
Patricia Clarkson
Bill McCutcheon
Peter Falk
Keanu Reeves
Barbara Hershey

Casting By:
Billy Hopkins

Director of Photography:
Robert M. Stevens

Editor:
Peter Boyle

Production Designer:
Jim Clay

Producer:
Mark Tarlov
John Fiedler

Executive Producer:
Joseph M. Caracciolo Jr.

Distributor:
Metro Goldwyn Mayer