Neon Genesis Evangelion: Death And Rebirth (Collector`s Special Edition) (UK)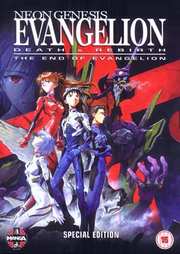 Featuring Death and Rebirth, and The End of Evangelion
Certificate: 15
Running Time: 200 mins
Retail Price: £24.99
Release Date:
Content Type: Movie
Synopsis:
Death And Rebirth The first part of the sensational two part conclusion to the hugely popular 26 episode Neon Genesis Evangelion series. Released theatrically in Japan and here available as a double disc DVD, Death And Rebirth features stunning animated action and mind blowing dramatic revelations!
The End Of Evangelion The mind-blowing finale to the incredible Neon Genesis Evangelion series. This stunning anime feature was comprised of two alternate episodes intended by the animators at GAINAX Studios to take the place of episodes 25 and 26 of the original series. Acclaimed Japanese animation director Hideaki Anno creates a visual tour-de-force that resolves many questions about the epic series while also generating some interesting new ones.
Special Features:
Death And Rebirth Audio commentary. Original Japanese trailers. Index of characters. Photo gallery. Japanese production credits. End Of Evangelion preview.
The End Of Evangelion Audio commentary by Amanda Winn Lee (English language director and voice of Rei Ayanami). Additional voice commentary by Taliesin Jaffe and Jason C. Lee. Japanese production credits.

Distributor:
Manga Entertainment Ltd